A 1938 viola bought from an Arkansas violin shop was among the gifts presented yesterday by President Trump to Emperor Naruhito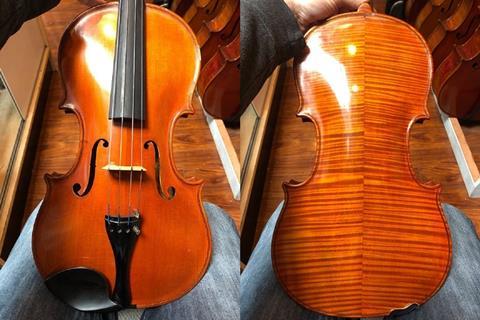 A viola made in 1938 by Ivan W. Allison of Charleston, West Virginia, was amongst the gifts presented by President Trump yesterday to the new Emperor of Japan, who happens to be a keen viola player.
The instrument was sold to the US State Department by a violin shop in Little Rock, Arkansas, and presented to the Emperor in a custom case, alongside a photo of U.S. composer Aaron Copland.
In a message on his Facebook wall, Joe Joyner, owner of the Little Rock Violin Shop, said, 'On April 30th I heard a news story that Japan's Emperor Akihito was stepping down and that his son, Naruhito, would be taking his place. 24 hours later I received a call from the U.S. State Department seeking an American made viola to give as a diplomatic gift'.
'Shortly after this call, I began seeing news stories about Japan's new Emperor Naruhito being a violist. Nearly a month later, I can now say that last week I sold the Emperor's new viola…The instrument was presented to Emperor Naruhito by President Donald Trump today. God I love my job.'
First Lady Melania Trump gave Japan's empress, who studied economics at Harvard University in the early 1980s, a desk set that included a fountain pen made from an oak tree that stands on the university's Cambridge campus.
Empress Masako presented the first lady with an ornamental box with a traditional Japanese design in return.
Meanwhile, Emperor Naruhito presented President Donald Trump with a traditional Japanese pottery and porcelain bowl.
Naruhito originally picked up the musical bug from his parents Akihito, a cellist, and his mother Michiko, an accomplished pianist, who takes part in the annual Kusatsu International Summer Music Academy and Festival as an accompanist and chamber musician as one part of her enthusiasm for music and the arts.
In 2013 Naruhito performed on a viola made from driftfood debris from the 2011 tsunami.
Read: Japan's new viola playing emperor