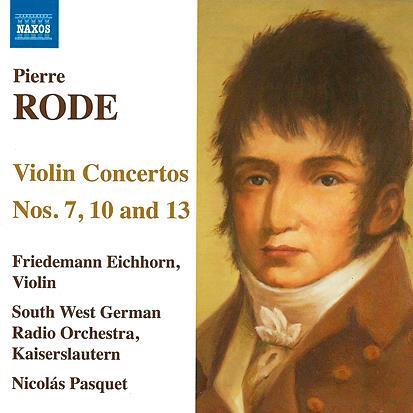 The Strad Issue: January 2009
Musicians: Friedemann Eichhorn (violin) South West German Radio Orchestra, Kaiserslautern/Nicolás Pasquet
Composer: Rode
Pierre Rode (1774–1830) is chiefly remembered as one of the trio of Viotti disciples who founded the violin department of the Paris Conservatoire. His violin concertos owe a considerable debt to those of Viotti. The Seventh Concerto is well known to scholars of performing practice – an annotated edition of the work is included in Louis Spohr's Violinschüle of 1833 and contains valuable insights into early 19th-century performance style.
It is hardly surprising that this recording does not attempt to realise such style – especially the portamento, which was a conspicuous feature of Rode's own playing. Nonetheless, Friedemann Eichhorn, who studied in Mannheim and at the Juilliard School, gives sensitive performances that at least use the vibrato thoughtfully. All three concertos are performed almost flawlessly from a technical standpoint. Eichhorn manages to convey the lyricism as well as joie de vivre of these early Romantic compositions which all too often can sound pale and weak in comparison to later, more full-blooded essays in the concerto genre. The South West German Radio Orchestra, Kaiserslautern is neat and tidy, if perhaps a little lacking in fire and phrase subtlety – the tuttis in the first movement of Concerto no.7 seem a little lacking in shape and interest, for example.
Naxos provides a fine recording – the sound is admirably clear and the performances are expertly edited, although it can seem a little too reverberant, feeling a bit remote as a result. Overall, however, this is a competent disc and a good, modern account of these unjustly neglected works.



David Milsom