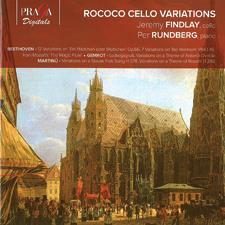 The Strad Issue: January 2012
Description: A worthwhile exploration of cello variations let down by poor sound
Musicians: Jeremy Findlay (cello) Per Rundberg (piano)
Composer: Beethoven, Gemrot, Martinu
The concept of recording cello variations written across three centuries makes for interesting listening, and reveals the extent to which composers have progressively become freer in their use of their original themes. In the case of Beethoven one can easily follow Mozart's operatic arias as they give rise to the variations. For Martinu, the themes act more as a catalyst for building personal scores full of the composer's highly distinctive harmonic language. And in two recent works by Ji?í Gemrot (b.1957) themes by Beethoven and Dvorák are wrapped up in a readily attractive modernity.
By using a very simple and unadorned tonal quality for the Beethoven, Jeremy Findlay also points to the development of cello technique from the beginning of the 19th century to the present day, where he can explore the full range of sounds required. In the Gemrot, technical hurdles are brushed aside with agility and the wide range of dynamics for which the composer calls. Findlay has an excellent partnership with the Swedish pianist Per Rundberg, and their interplay in the Beethoven and Martinu is perfectly weighted.
The Prague church acoustic is not so comfortable to the ears, as it gives a hollow sound and a cutting edge to the cello in loud passages.
DAVID DENTON