A warm and convincing 'Trout' doesn't overplay its star guest's presence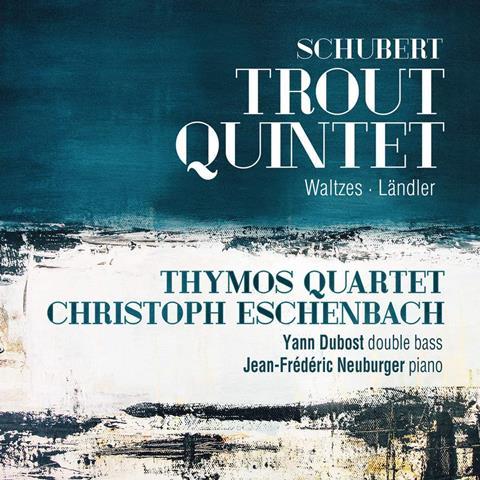 The Strad Issue: August 2020
Description: A warm and convincing 'Trout' doesn't overplay its star guest's presence
Musicians: Thymos Quartet, Christoph Eschenbach (piano) Yann Dubost (double bass) Jean-Frédéric Neuburger (piano)
Works: Schubert: 'Trout' Quintet D667; Selected Ländler from D366 and D790; Dejours: Schubertiade
Catalogue Number: AVIE AV2416
The last time I covered a 'Trout' Quintet for The Strad, a star player upset the balance a little. That was Anne-Sophie Mutter on violin. Here we have Christoph Eschenbach on the piano stool. On the whole, this is a light-fingered, unassuming 'Trout' and Eschenbach got the memo. He is deliciously unobtrusive in terms of volume but he does draw attention to himself with one unusual gesture in the opening movement's main theme, where he insists on picking out the highest note.
That sort of thing, especially when executed with such conscious poise as here, can easily upset the sense of unfettered joy and spontaneity that this music really ought to leave you with: the sense that it's not a performance at all. On the whole, the Thymos Quartet and Eschenbach capture something like that: a café feel that is light but warm inside, not huge on bonhomie and with judiciously chosen but below-average tempos. There is charm, care and always more hesitancy than display, which in this quintet can be a good thing. You may pine for more double bass and inner voices – viola in the second of the variations, for example – but the sound is spacious.
For extras we have Olivier Dejours's undemonstrative arrangement of Schubert's Waltzes D146 – as meat and potatoes as Schubert gets. Dejours doesn't trespass on the material despite having some fun with it, warming it up and stretching it a little, literally and formally. There is further evidence here that Thymos has a good, firm idea of its own sound. Pianist Jean-Frédéric Neuburger's journey through a consciously plotted series of Ländler is like a low-key symphonic postlude to a disc that, despite its guest star, prefers not to shout about anything. And is all the better for it.
ANDREW MELLOR