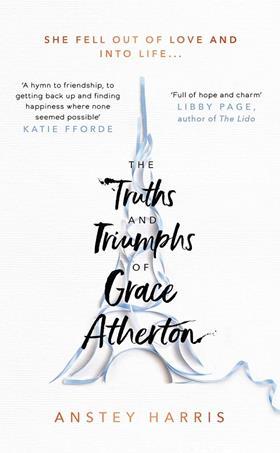 The Strad Issue: December 2018
Title: The Truths and Triumphs of Grace Atherton
Author: Anstey Harris
Publisher: Simon & Schuster
ISBN: 9781471173806
At first, comparisons with best-selling title Eleanor Oliphant Is Completely Fine on the back-cover blurb of Anstey Harris's novel made me raise an eyebrow. But this book swept me along in a similar way, tracing the path by which Grace discovers that the building of unexpected connections with others can prove to be so much more fulfilling than the relationship she had believed was central to her happiness. Best of all, Grace happens to be a violin maker, and we presumably have Harris's luthier husband to thank for the accuracy of the incidental observations about her craft.
Grace lives a solitary existence, flitting between her violin shop in England and the man with whom she is having an affair in Paris, the seemingly devoted David. Yet the book's dramatic opening sees this eight-year relationship already beginning to unravel. When a pregnant woman faints on the platform of a metro station and falls into the path of an oncoming train, David jumps down on to the tracks to carry out a daring last-minute rescue. As CCTV footage of the near-calamity becomes a viral hit, news outlets around the world want to track down the mystery hero and his partner, and all David's assurances to Grace about their future together begin to fall apart.
Grace, it turns out, has secrets of her own. She trained as a cellist at music college but was sent home after a year. Details emerge about inappropriate behaviour by a tutor, and the anxiety these events triggered means she has never been able to play her instrument in front of anyone since. We also learn, heartbreakingly, that she has the pieces of a 1/32-size cello hidden away from prying eyes in a dusty box at the back of her workshop, an instrument she began constructing for a baby 'who didn't live, who was never born'.
The lutherie thread running through the book is brilliantly detailed by Harris, who effortlessly conjures up the detail of Grace's trade, from the scent of varnishes, powder and potions on her workbench to the novel's denouement at the Cremona Triennale.
It's gripping stuff, with vividly imagined characters that really draw the reader in. It almost seems curmudgeonly to mention my irritation with the over-fussy use of the apostrophe for the word 'cello throughout my uncorrected proof copy – surely the grammatical equivalent of writing 'bus or 'phone. But it's a very minor gripe in such a persuasive novel. Definitely one to add to your list.
CATHERINE NELSON