Final instalment of Russian viola music collection has been well worth the wait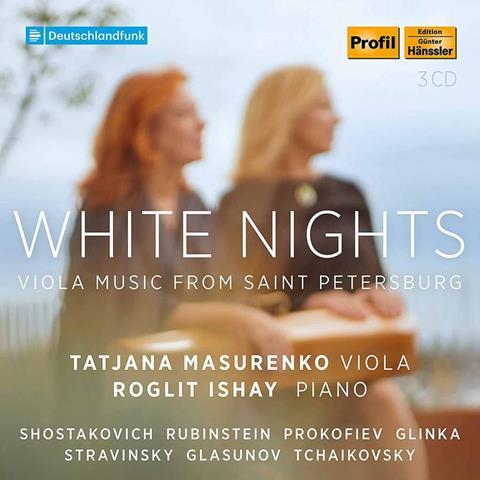 The Strad Issue: January 2022
Description: Final instalment of Russian viola music collection has been well worth the wait
Musicians: Tatjana Masurenko (viola) Roglit Ishay (piano)
Works: Music by Banshchikov, Glazunov, Glinka, Rimsky-Korsakov, Rubinstein, Prokofiev, Shostakovich, Stravinsky and Tchaikovsky
Catalogue number: PROFIL EDITION GÜNTER HÄNSSLER PH20045 (3 CDs)
It's been almost twelve years since Tatjana Masurenko began her journey through the musical history of her home town (I reviewed its second instalment in the January 2014 issue). Now the series has been repackaged as a set and includes a third CD recorded in August 2020.
The three arguably most important viola sonatas written in Russia are present: those by Glinka, Rubinstein and Shostakovich. Additionally, we are treated to a generous selection of those uniquely idiomatic arrangements penned by Vadim Borisovsky and his disciples. For his selection of Shostakovich Preludes, Evgeny Strakhov chose keys that allow open strings to resonate and double-stops to lie conveniently under the fingers. Konstantin Oznobishev's setting of Stravinsky's Russian Song compares favourably with Samuel Dushkin's version, a favourite encore of Yuri Bashmet's. Borisovsky's selection from Prokofiev's Romeo and Juliet is well known, but Masurenko also includes, among others, a seldom-heard setting of Rimsky-Korsakov's Song of the Indian Guest and an even rarer one of Glinka's Variations on Alabiev's song 'The Nightingale'.
In the first two CDs, Masurenko plays a Paolo Antonio Testore viola from 1756, switching for the third one to a new instrument made in 2020 by Leipzig luthier Jürgen Manthey which, moreover, she has strung with gut. While her trademark darkly soulful sound remains consistent throughout the album, the latter set-up results in a heart-warming tonal quality which is proving addictive. Both players rejoice in the predominantly Romantic sound world, Masurenko employing an abundance of loving portamento and a wide spectrum of vibrato. Roglit Ishay is a congenial partner with a similarly keen ear for tonal variety, who comes into her own in the full-fledged piano parts, particularly of the Rubinstein Sonata. The recording, courtesy of Deutschlandfunk in Cologne, places both players in a friendly acoustic that lets one hear their every nuance.
CARLOS MARÍA SOLARE