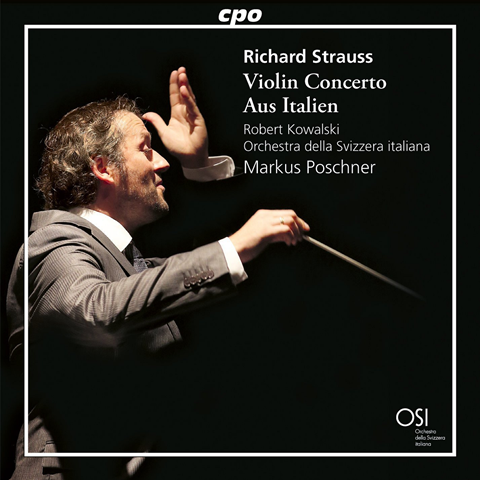 The Strad Issue: April 2018
Description: Committed playing of the teenage Strauss's concerto
Musicians: Robert Kowalski (violin), Orchestra della Svizzera Italiana/Markus Poschner
Works: STRAUSS Violin Concerto in D minor op.8; Aus Italien op.16
Catalogue Number: CPO 555 126-2
Considering the contemporary propensity for uncovering and rediscovering neglected works of the past, it seems inexplicable that Strauss's swashbuckling Violin Concerto, composed in his wunderkind late teens, has been so studiously ignored by big-name players. Skilfully orchestrated, stylistically derived from the Mendelssohn–Schumann mainstream, yet with an impassioned virtuosity that demonstrates a keen awareness of Wieniawski, Sarasate and the Russian school, on paper it ought to be a sure-fire winner. Yet whereas even the likes of Arensky, Conus, Goldmark and Castelnuovo-Tedesco invested their concertos with noble expressive sincerity, melodic indelibility and a compelling emotional narrative, Strauss rarely sounds truly engaged by his material. All of which is highly frustrating, as all the ingredients are there, yet the concerto ultimately creates the impression of being a highly advanced student exercise.
That said, Robert Kowalski and his devoted accompanists clearly believe in every note, soaring aloft at the slightest cantabile provocation and deftly negotiating the music's technical chicanery with a shimmering, silver-toned elegance. The playful finale dances along infectiously, and the rhetorical chest-beating heroics of the opening Allegro are played for all they're worth.
Exemplary sonics (sumptuous, yet clear and powerfully projected), and an engaging coupling – the early tone poem Aus Italien – further enhance the attractions of this fine release.
JULIAN HAYLOCK