A treasurable partnership from two giants of the early music world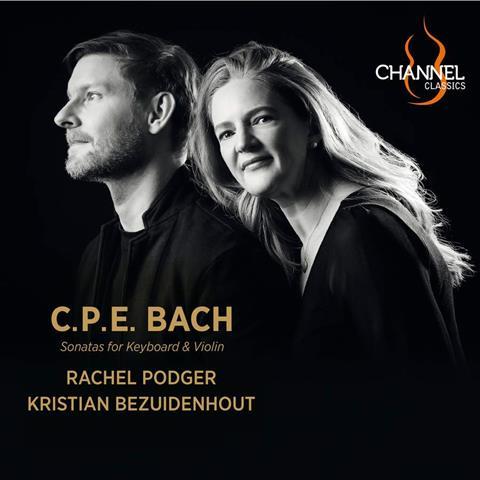 The Strad Issue: November 2023
Description: A treasurable partnership from two giants of the early music world
Musicians: Rachel Podger (violin) Kristian Bezuidenhout (harpsichord/fortepiano)
Works: C.P.E. Bach: Sonatas for keyboard and violin: G minor H542.5, C minor Wq78, B minor Wq76, D major Wq71; Arioso con variazioni in A major Wq79
Catalogue number: Channel Classics CCSSA 41523
Who better to introduce us to the unpredictable world of C.P.E. Bach's violin sonatas than queen of the Baroque violin Rachel Podger and versatile early keyboard specialist Kristian Bezuidenhout?
Carl Philipp Emanuel, J.S. Bach's third son, lived another 38 years after his father, dying a year before Mozart. Here we have two Baroque-style sonatas from his youth (the G minor and D major), and two showing the edgy composer he was to become in his later years, embracing a more emotional and rhetorical language and displaying a more equal dialogue between the instruments.
There is an infectious rapport between the players here and a lithe, flexible approach to the music that brings it to life. Podger adapts her manner of playing to the pieces' changing styles, drawing a fine, gossamer thread of sound from her 1739 Pesarinius violin in the early Sonata in G minor, and laying into the lower strings more expressively in the C minor Sonata of 1763. The Presto final movement of this latter sonata is incredibly intense, its fugal entries almost obsessive and its surprise wrong turn near the end more shocking than humorous.
The slightly resonant church acoustic makes you feel as if you are sitting right there with the performers.
Janet Banks