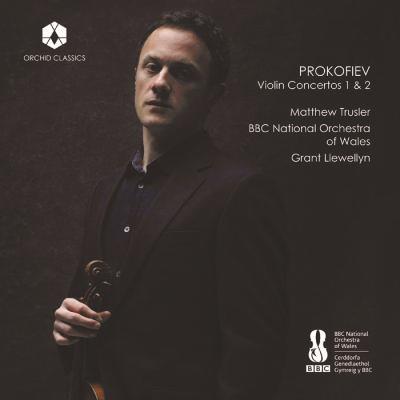 The Strad Issue: September 2017
Description: Tremendously stylish versions of these acerbic Russian concertos
Musicians: Matthew Trusler (violin), BBC National Orchestra of Wales/Grant Llewellyn
Composer: Prokofiev
Catalogue Number: ORCHID CLASSICS ORC 100070
If it's become fashionable in recent years to miniaturise and prettify the Prokofiev concertos, emphasising their balletic and toyshop qualities, Matthew Trusler embraces and fully stages the high contrasts – sometimes not only from page to page but also from bar to bar – between introversion and extrovert display. Try the episodic central movement of the Second Concerto, where Trusler turns on a sixpence from a baritonal assurance to a silvery soprano. In this he's aided by an old-fashioned recording balance that places the soloist unabashedly front and centre. He steals into the First Concerto like Juliet over a barely audible carpet of tremolo before brandishing a rapier worthy of Mercutio in the scherzo's first theme and bringing a braggart's swagger to the double-stopped octaves.
Neither he nor his orchestral colleagues are afraid of sandpapery or acid tone where appropriate in the sardonic finale to the Second Concerto. Perhaps the tick-tock accompaniment to open the First's finale is unnecessarily obtrusive; it's the one movement on the disc that doesn't quite come together – perhaps not coincidentally, for Prokofiev himself around 1916–17 was still searching for a happy marriage between his own lyric instincts and modernist discoveries. He soon became as adept at designing masks as any Soviet artist, and Trusler wears them in some style.
PETER QUANTRILL