Almost squeaky-clean and crystal-clear playing in a polished view of Glass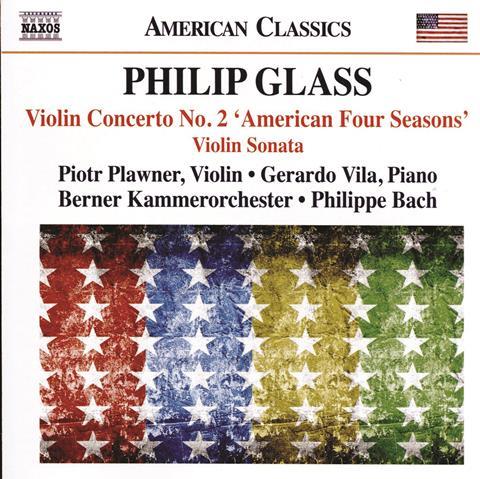 The Strad Issue: April 2020
Description: Almost squeaky-clean and crystal-clear playing in a polished view of Glass
Musicians: Piotr Plawner (violin) Gerardo Vila (piano) Bern Chamber Orchestra/Philippe Bach
Works: Glass: Violin Concerto no.2 'The American Four Seasons'; Violin Sonata
Catalogue Number: NAXOS 8.559865
Philip Glass wrote his Second Violin Concerto in 2009 for US violinist Robert McDuffie, and it's gone on to become one of his most popular later works. You can see why: it's an immediately likeable piece, one that marries Glass's trademark arpeggios and running figurations with some fairly large nods to Baroque music (not least a synthesiser on harpsichord setting) to pleasing effect. But despite its title, there are few direct references to Vivaldi's iconic set of concertos – and indeed, Glass even refuses to indicate which of his movements refers to which season.
Not that it seems to matter, as each is strongly defined in its own musical terms, especially in this vivid reading by Polish violinist Piotr Plawner. He brings a remarkable clarity and almost squeaky-cleanness to Glass's obsessive patterns, each note sharply etched, but there's a lot of warmth, too, in his flexible, expressive rubato. He strikes a fine balance between remaining true to the austerity of Glass's repetitions yet also shaping the music into grand paragraphs, each with its own clear function. The Bern Chamber Orchestra provides rich, resonant support, most impressively in a range of contrasting sounds and textures in the sombre slow movement.
Glass's Violin Sonata, also from 2009, strays surprisingly far from his trademark style, certainly in its slow movement, whose Romantic, soaring melodies sound closer to Fauré. Again, Plawner offers a nimble, sharply focused account, displaying astonishing stamina in the unstoppable rhythms of the vigorous finale, with sensitive, elegant accompaniment from pianist Gerardo Vila. Recorded sound is close, clear and warm.
DAVID KETTLE