A bold and rhapsodic concerto to suit its committed dedicatee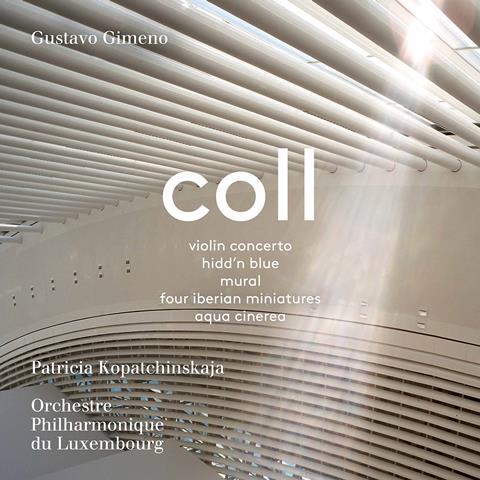 The Strad Issue: July 2021
Description: A bold and rhapsodic concerto to suit its committed dedicatee
Musicians: Patricia Kopatchinskaja (violin) Luxembourg Philharmonic Orchestra/Gustavo Gimeno
Works: Coll: Violin Concerto; Hidd'n Blue; Mural; Four Iberian Miniatures; Aqua cinerea
Catalogue number: PENTATONE PTC 5186951
Spanish-born composer Francisco Coll and Moldovan violinist Patricia Kopatchinskaja first met by chance (on a train to Coll's home town of Valencia) in 2016, but they clearly built a strong rapport very quickly. Since then he has written several pieces for her – for example his 2018 double concerto Les Plaisirs Illuminés, for Kopatchinskaja and cellist Sol Gabetta (reviewed March 2021). Indeed, it feels like there are natural parallels between Coll's distinctively larger-than-life, sometimes deliriously grotesque music and Kopatchinskaja's equally heart-on-sleeve, fiercely committed playing, both of their approaches also revealing a touching sincerity and vulnerability that undercuts any flamboyant excess.
As what's effectively a musical portrait of Kopatchinskaja, Coll's Violin Concerto, premiered just before the pandemic hit in February 2020, brings them even closer. It's a remarkable piece – big, freewheeling, bold and rhapsodic, orchestrated with kaleidoscopic flair, and with a compelling sense of organic growth. Kopatchinskaja rises to its technical challenges magnificently – from the first movement's spiralling figurations to its gruff, assertive cadenza – but is just as alive to its passages of eerie, almost numinous stillness. It's a solo performance of utter commitment and conviction, matched by that of the Luxembourg PO under Gustavo Gimeno, which provides impeccable, sharply etched support.
Coll tackles his own country's folk music in the sarcastic but deeply sensual Four Iberian Miniatures, which play with layers upon layers of irony and detachment, and receive a superbly theatrical account from Kopatchinskaja. Three powerful orchestral works – Hidd'n Blue, Mural and Aqua cinerea – get brilliant, vivid performances to complete a deeply rewarding disc.
DAVID KETTLE