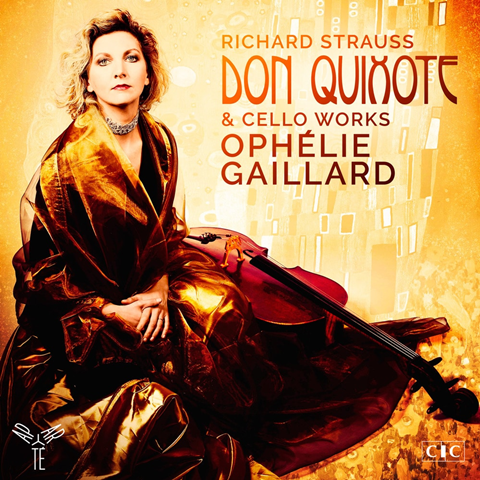 THE STRAD RECOMMENDS
The Strad Issue: July 2018
Description: Powerful playing in these gloriously Romantic cello works
Musicians: Ophélie Gaillard (cello), Alexandra Conunova (violin), Dov Scheindlin (viola), Vassilis Varvaresos (piano), Béatrice Uria-Monzon (mezzo-soprano), Czech National Symphony Orchestra/Julien Masmondet
Works: STRAUSS Don Quixote; Sonata in F major; Romance in F major; Morgen
Catalogue Number: APARTE AP174
Gaillard really is at the top of her game in this disc: full-toned and playing with authority, dignity and a warm lyricism. Strauss's youthful sonata, recorded this January in Paris on Gaillard's loaned 1733 Gofriller – only weeks before its theft at knifepoint – is engagingly expressive. Gaillard's strong, expansive playing draws us right in, and makes a huge opening of the powerful declamatory chords. The recorded sound brings out the woody richness of the instrument while the profound slow movement is made extra-effective by Gaillard's use of minimal vibrato.
Don Quixote is glorious. To the backdrop of the sumptuous orchestral palette conjured up by the Czech National Symphony Orchestra, Gaillard proves herself a master of dramatic characterisation, with her witty portrayal of comic uncertainty in Variation 1, expressive soaring as the Don dreams of Dulcinea in Variation 5, and the tenderness of his deathbed speech, where her cello movingly takes on the quality of a human voice. Don Quixote's scenes with Sancho Panza and Dulcinea, solo viola and violin, are more closely recorded to give a chamber feeling.
The Romanze, performed in its orchestral version, is full of tenderness, while Strauss's first version of his song, Morgen, with solo cello, transports the listener to a state of ecstasy.
JANET BANKS