A father–daughter combination achieves some almost miraculous musical moments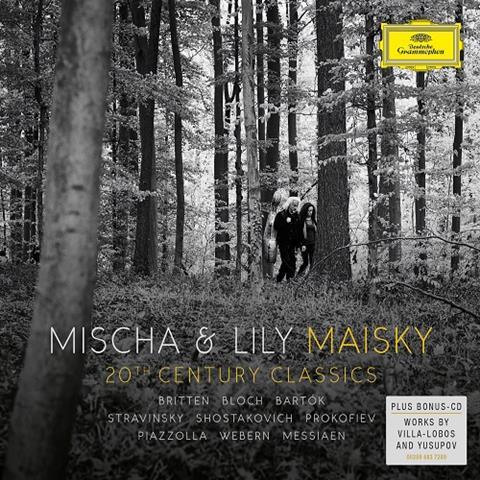 The Strad Issue: January 2020
Description: A father–daughter combination achieves some almost miraculous musical moments
Musicians: Mischa Maisky (cello) Lily Maisky (piano) Lucerne Symphony Orchestra/Benjamin Yusupov
Works: Music by Britten, Bloch, Bartók, Stravinsky, Prokofiev, Shostakovich, Piazzolla, Webern, Messiaen, Villa-Lobos and Yusupov
Catalogue Number: DG 483 7289 (2 CDs)
Despite its title, there is only one major 20th-century work for cello, Britten's Sonata, on this disc – but it is worth buying for that alone. The father-daughter duo's ensemble is almost miraculous, the fragmentary lines passing between them so naturally that the music flows as I have never heard it before. Maisky's virtuosic pizzicato draws a whole range of colours from his strings, and every phrase oozes eloquence.
Webern's Three Little Pieces are over in a blink but the pair still draw meaning out of every note. In their musical antithesis, Bloch's Prayer, there is a hugeness to the Maiskys' interpretation, ranging from tenderness to grandeur, the sound closely recorded and resonant. A joyously wild interpretation of Bartók's Romanian Dances has some pitches slightly off centre, a problem that also occurs in the highest reaches of the instrument in Messiaen's second Louange, originally for violin, where Maisky's wide vibrato makes the pitch waver unpleasantly.
Piazzolla's Grand Tango moves from its brooding opening to stylish flamboyance from the piano and an exciting, almost frenzied conclusion in high cello octaves. Among the encore pieces, a profound Shostakovich Adagio sees Maisky's cello at its most sensuous and emotionally powerful.
The bonus CD features a bit of a gimmick – Villa-Lobos's Bachianas Brasileiras no.1 with Maisky on all eight parts – and a live recording of the 2008 premiere of a concerto by Benjamin Yusupov, written as a musical portrait of the cellist on his 60th birthday. It is an effective piece, with Shostakovich never far in the background and Maisky in his element in the virtuosic cello part.
JANET BANKS