A traversal of Beethoven sonatas that revels in song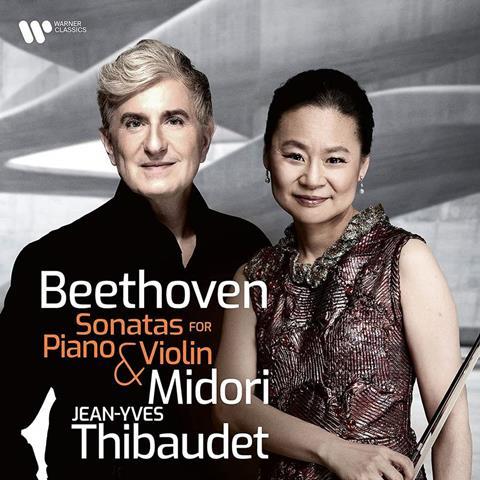 The Strad Issue: February 2023
Description: A traversal of Beethoven sonatas that revels in song
Musicians: Midori (violin) Jean-Yves Thibaudet (piano)
Works: Beethoven: Complete Violin Sonatas
Catalogue number: WARNER CLASSICS 5419721536 (3CDs)
The distinct musical personalities of violinist and pianist assert themselves unselfconsciously from the outset, which isn't to say that Midori and Thibaudet treat the sonatas as blank canvases for their respective temperaments. At least as recorded in this equably balanced studio version, rather than the live cycles they have given together over the past few years, Midori is more self-contained than most modern interpreters. She plays within a narrower envelope of expression than (say) Isabelle Faust or Alina Ibragimova, connected rather to the Franco-Belgian school exemplified by Grumiaux's classic Philips account, which works upwards from a ground of tonal warmth and beauty.
There is not an ugly sound nor a bow hair out of place, even in what can be the strident chords and combative character of the First Sonata's outer movements. On occasion, Thibaudet's articulation cannot quite emulate Midori's watchmaker precision, but otherwise they make a fine foil for each other. The rapid figuration in the first movement of op.12 no.3 bounces back and forth between them with irresistible élan. Thibaudet poses the most intriguing question at the outset of the C minor Sonata, which Midori answers as though she knew what was coming all along. Here and in the carefree idyll of the 'Spring' Sonata, they both find a lightness of spirit that eludes more aggressively individual interpreters. Similarly, in the finale of no.8, in place of the madcap sprint of, say, Kavakos or Milstein, they set the pulse racing with pointed variations of dynamics and phrasing.
In no other area of his output, I think, does Beethoven lay such stress on cantabile, and you could hardly find more songful performances than these. Midori's bowing in the variation finale of the A major is a thing of joy in itself, supple as a willow branch as it bends over the bar-lines. The solemn Baroque character of the introduction to the 'Kreutzer' is uncommonly well connected to the business of the main Allegro like the finest versions of the Seventh Symphony, and a related, Neoclassical reserve inflects the theme of the central variations with an oblique French accent.
Accordingly, the set's climax arrives with a deeply satisfying account of op.96. If the opening trills anticipate the visionary wonder of the op.111 Piano Sonata, they do so with a welcoming smile rather than the high-pressure profundity of Mutter and Orkis (DG) or the pretty tiptoeing affected by Oistrakh and Oborin (Philips). Here, as elsewhere, Midori and Thibaudet tread more discreetly than my recent favourite among Beethoven sonata sets – Little and Roscoe on Chandos – but they leave a lasting impression, like your dinner guests who bring champagne, dress impeccably and leave on time.
PETER QUANTRILL