Bruce Hodges plugs in to hear a concert streamed from violinist Tina Bouey's New York living room on 19 March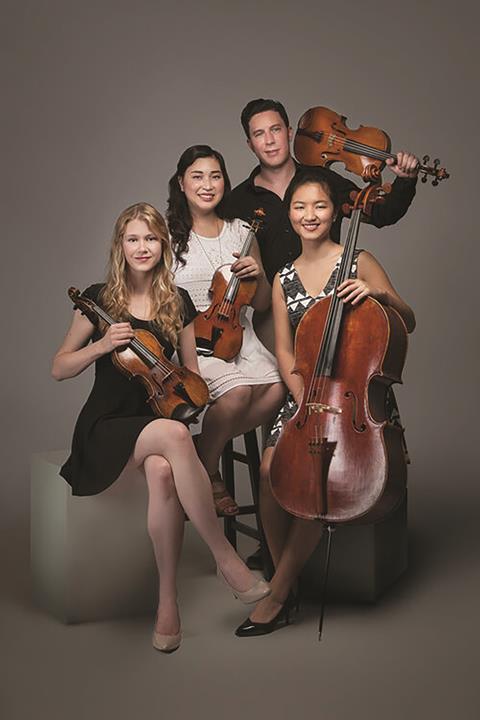 Watch the concert here (Facebook)
This Ulysses Quartet evening was originally planned to take place at the Juilliard School, but in a 'can't stop us' manoeuvre, the ensemble relocated to violinist Tina Bouey's apartment for two recent works by composer Joseph Summer, and live-streamed the concert via Facebook and YouTube.
Of Summer's two 'Sea Change' quartets (both from 2020 and inspired by deep-sea diving in Asia), no.1, I to the world am like a drop of water, is in three movements. The first, a densely populated view of the ocean's wildlife, sports a very long title starting with 'Picasso Trigger', a reference to an unusually coloured fish of that name. The second movement, 'I can call spirits from the vasty deep', was more ruminative, flecked with sparkling harmonics, before a gutsy series of chords heralds the end. And the finale, evoking 'A thousand golden Buddhas, a thousand silver barracudas', filled the room as if with tiny virtual fish, frenzied and fleeting.
For the second quartet, unpath'd waters, undream'd shores, a lyrical violin line floats over a chorale-like figure, leading to a regal, subdued mood. The players caught the rhapsodic, florid ebb and flow. The second movement has enticing pentatonic scraps, as if seen from behind a veil, leading to an abrupt finish.
Pizzicato opens the finale, as the first violin unfurls fluid lines over the others. Rugged double-stops eventually flood in, as the rich, dense textures surge and retreat. 'Epic' might be hyperbole, but at around 40 minutes each, the two quartets perhaps deserve it. As a sprightly encore came 'Song of the Little Partridge', based on an Armenian folk song.
Given the circumstances, Michael Sinicropi deserves a nod, as the evening's intrepid sound and video engineer. Even with sonic limitations, the ensemble's tone was transmitted with balance and heft – no small feat. And the format provided an added feature: fans listening around the world could weigh in with emojis – floods of hearts floating up gently on screen – or make comments, to wit: 'Aunt Connie is watching from Newark, Delaware!'
BRUCE HODGES