Carlos Maria Solare hears the performance where the violist received the 2021 Ernst von Siemens Music Prize, from the Prinzregententheater Munich on 15 June 2021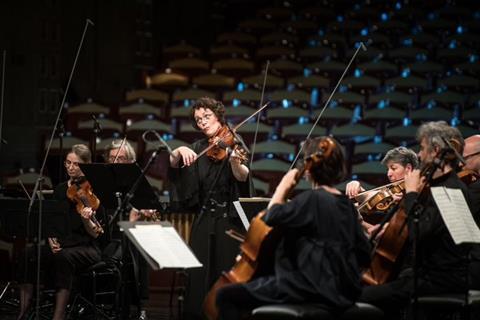 The Ernst von Siemens Music Prize has been awarded annually since 1974 to recognise 'distinguished contributions to the world of music'. Its 2020 recipient was violist, Tabea Zimmermann, who after several postponements due to Covid restrictions, received it in an online-only ceremony, framed by several interviews and a touching eulogy from Norbert Lammert, former President of the German Parliament. The musical side was a typically thoughtful piece of programming, including compositions by previous prizewinners Benjamin Britten (the very first one in 1974) and Luciano Berio (1989), as well as a premiere from the 2021 awardee, Georges Aperghis.
Aided by some sensitive camerawork, the various musical layers of Berio's Naturale were lovingly laid out before the listener. Ideally balanced with the pre-recorded folk songs, Zimmermann's accompanying ad libs were perfectly timed in between the sung phrases. She made the arabesques typical of Sicilian folklore sound absolutely spontaneous. Just as the singer on the tape went back and forth between song and speech, Zimmermann's tone ran the gamut between lyrical effusion and percussive effects that blended uncannily with Christoph Sietzen's assorted drums and other paraphernalia.
Aperghis's Aria for viola, strings and percussion is a rather intimidating affair, requiring an unusually high component of noise in the strings' sound at both ends of the dynamic spectrum. Under Emilio Pomàrico's dedicated guidance, Zimmermann and the musicians of Ensemble Resonanz – where she was artist-in-residence some seasons back – convincingly broke a lance for this most personal, unconventional music.
The evening concluded with a cohesive reading of Britten's Lachrymae, begun by Zimmermann with a subdued accompaniment to Dowland's melody in the bass. She subsequently characterised the various variations – such as a deliciously decadent waltz – with an unerring sense of style. After some eerie double harmonics, she didn't shy away from 'ugly' ponticello sound, thus heightening the contrast to the classical beauty of the closing Dowland quotations.
CARLOS MARÍA SOLARE