Tim Homfray watches the performance at London's Wigmore Hall on 2 February 2021, from the comfort of his own home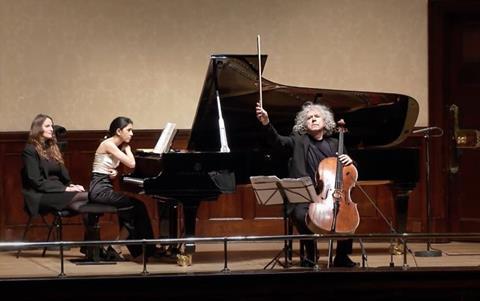 This was an almost all-Russian programme, with Janáček's Pohádka, based on a Russian poem, framed by 20th-century sonatas. Isserlis unfolded Kabalevsky's B flat major Sonata like a good storyteller, building its opening paragraph from gloom to feverish keening before its anguish subsided into resignation and beauty, then striking forth once more.
He flew through the light, scampering second movement with an overarching lyricism framed by pensive musings, and dashed off the virtuoso high-jinks of the finale with great flair before sinking once more into melancholy. Isserlis fluttered in the nervy first movement of Pohádka, rose into gloriously rich melody in the second (where he turns, possibly, into a bird), and showed folk-like charm in the third.
An essential simplicity underlay much of the first movement of Shostakovich's Sonata, most obviously in the gentle second subject. There was lightness and finesse, after which the barnstorming theatricals of the second-movement Allegro came as a rude shock, surging ahead irresistibly. The Largo flowed with expressive elasticity, and the bow bit into the staccato quavers of the finale, the tone dry and unsettling.
TIM HOMFRAY