Bruce Hodges pays attention to the performance at New York's Atterbury House on13 March 2021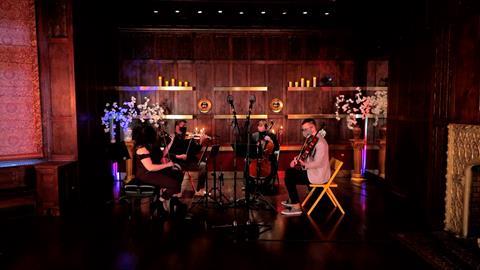 In this latest episode of Lara St John's superb series The Atterbury House Sessions, PubliQuartet appeared in the Atterbury mansion, bolstered by clean sound and unobtrusive camerawork, against a backdrop of dark wood shelves with candles and flowers.
Jessie Montgomery wrote Voodoo Dolls (2008) for the Jump! Dance Company of Rhode Island, and its frenzied rhythms, combined with slapping the instruments' wood, make a heady mix. Coming scarcely a week after a quintet version from the Minnesota Orchestra, the quartet offered its own unique sizzling take.
In Jessica Meyer's ebullient Get into the Now (2018), percussive accents also reign supreme, but here anchoring wiry timbres and an aggressive cello underpinning. Given the composer's status as a violist, an idyllic viola solo appears, like smoke gently rising. But that didn't last long, as the musicians plunged into a furious array of hyperventilated runs, fingerboard slaps, and bow and finger taps on strings, before a short vocal outburst ended it all.
In addition to a small but enthusiastic, socially distanced audience, composer John Corigliano was on the premises (wearing a lizard-patterned shirt as a tribute to St John's pet iguana). Inspired by his father (former concertmaster for the New York Philharmonic) Snapshot, circa 1909 (2003) opens with graceful pizzicatos, when a violin melody materialises, evoking the sepia-washed era of his father's youth.
A bluesy version of Nina Simone's Blackbird showed the quartet at its most soulful, and made a fine companion to the group's 2017 What Is American?, inspired by Dvořák's Twelfth Quartet. Effortlessly gliding between gospel, jazz, blues and hip-hop, the work includes rhythmic, vocal exhalations, along with bits of the Dvořák floating by, as if America were being glimpsed from the deck of a passing cruise ship.
BRUCE HODGES