Bruce Hodges attends the show at Depaul Art Museum, Chicago, IL, US, on 24 July 2021, from the comfort of his own computer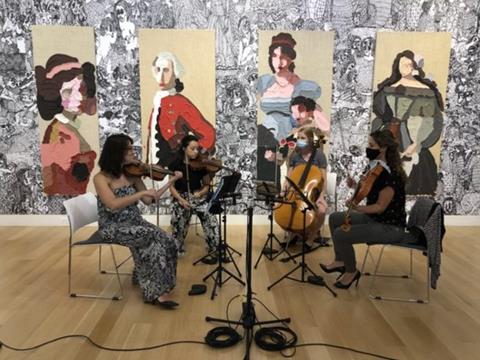 As strong advocates for Latin American composers, the KAIA Quartet began this genial afternoon with Metro Chabacano (1991) by Javier Álvarez (b.1956 in Mexico City). As violinist Naomi Culp noted, 'There is nothing simple about this piece,' a slightly dark moto perpetuo that evokes the hypnotic motion of trains.
Next came String Quartet no.1 (1921) by Carlos Chávez, who combined complex rhythms with a Romantic streak (violinist Victoria Moreira compared his youthful textures to Schumann). The first movement surges with lyricism and appealing dissonances, and is followed by an ethereal second movement. Marked 'vivo', the third movement is the most restless, before the muted finale ends on an ambiguous flourish.
'These agaves are the cause of my misfortune,' said Silvestre Revueltas about his Second String Quartet (1931), subtitled 'Magueyes', the plant from which tequila is distilled. In her introduction, violist Amanda Grimm noted that Revueltas dedicated the work to the woman who had called off their relationship a year earlier, presumably because of the composer's alcoholic excesses. Background aside, the two movements are packed with contrapuntal energy and a little controlled chaos, which the ensemble dispatched with aplomb.
Uruguayan composer Elbio Barilari (b.1953) was present to introduce the world premiere of his Tango Suite (2020). Its four movements range from mournful to more urgent, with a handful of shrieking glissandos for good measure. A brief return to a buzzing figure early in the suite brings it to a close, capped with a single pizzicato note. As a warm-hearted encore, the foursome presented Escualo (Shark) by Piazzolla.
BRUCE HODGES