Bruce Hodges watches the marathon music event, curated by cellist Jan Vogler, on 27–28 March, reviewing some of the live performances by string players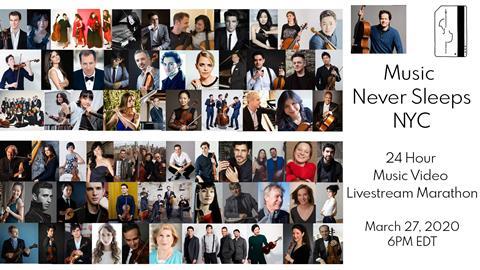 In the anxious days before life in New York City ground to a halt, cellist Jan Vogler seized the moment and – with help from co-hosting pianist Tiffany Poon and dozens of New York City musicians, all quarantined in their homes – organised a 24-hour marathon, broadcast live on both Facebook and YouTube, benefiting the Musicians' Emergency Relief Fund and the NYC Covid-19 Response and Impact Fund. And though the marathon line-up contained a starry lot of artists – pianist Inon Barnatan and countertenor Anthony Roth Costanzo were standouts – Vogler was particularly successful in engaging some of the city's best string players.
The first third made a panoramic snapshot of the talent on display. Around 7pm I caught cellist Zlatomir Fung, showing steely confidence in Berio's Sequenza XIV (2002). Agile left-hand pizzicatos and gentle hand slaps on the front of the instrument soon led to hair-trigger exchanges between lyrical bowing, wiry sul ponticello and gnashing tremolos.
Violinist Charles Yang appeared at 8.30pm, improvising on Blackbird by the Beatles. Amid feathery arpeggios, he added surprisingly effective and passionate vocalisation. Then his colleagues from Time for Three – violinist Nicolas Kendall and bassist Ranaan Meyer – joined for Steve Hackman's plaintive Vertigo, with each role in the trio synced remotely.
Around 10.15pm, Benjamin Beilman and Abigel Kralik were delightful in some of Bartók's 44 Duos for Two Violins. And following additional comments by Vogler and Poon – who did yeoman's work the entire evening, maintaining a sense of flow and context – came 19-year-old violinist Kevin Zhu, winner of the 2018 Paganini International Violin Competition. He wowed with some double-stop-packed samples of the competition's namesake, followed by Ysaÿe's Solo Sonata no.6 in E major, blooming with uninhibited emotion and unexpected delicacy. Zhu closed his sequence with a melancholy soupçon of Kreisler.
At midnight, The Knights returned (after an earlier recorded performance) with Gil Shaham and Adele Anthony for a warp-speed version of the first movement of Bach's 'Double' Concerto. The two violinists synced effortlessly with the ensemble, in another part of town. They finished with a refulgent encore, the 'Meditation' from Thaïs. As the first quarter of the festival wound down, violist Matthew Lipman offered Bach's Sixth Cello Suite – the Prelude and Allemande particularly soulful – and then added a Chopin nocturne arrangement, all of which made a handsome transition to his instrument.
Finally at 1.20am, though fatigued, I made time for Carter Brey, principal cellist of the New York Philharmonic, in two tangos he wrote himself, inspired by the work of Astor Piazzolla. One doesn't hear Brey often enough in solo repertoire, and this outing left me wanting more.
BRUCE HODGES