Magnificent playing plus the appeal of vinyl for those who partake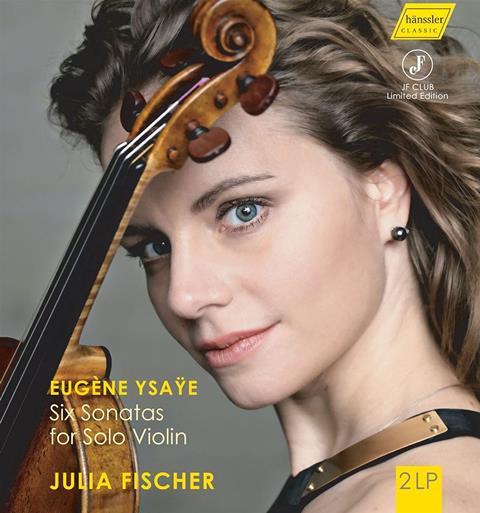 The Strad Issue: March 2022
Description: Magnificent playing plus the appeal of vinyl for those who partake
Musicians: Julia Fischer (violin)
Works: Ysaÿe: Six Sonatas for solo violin, op.27
Catalogue number: HÄNSSLER CLASSIC HC 20051 (2 LPs)
This vinyl limited edition, originally released exclusively for Julia Fischer's fan club, takes us back to the early LP days of short side-lengths – the longest of the four sides comes in under 20 minutes. The sound is superb but the occasional thump, slight surface noise on Side 4 and run-in and run-out grooves which do not always retain even my light stylus are reminders that one is not listening on CD.
According to her own lights, Fischer plays magnificently, with a wide dynamic range and superb intonation. She brings an exploratory feeling to the Grave of the Bach-like G minor Sonata and carries this mood over into the Fugato. The Allegretto is pensive, the Finale slashingly virtuosic. The A minor, haunted by Bach and the Dies Irae, features lovely double-stopping and a wistful quality in 'Malinconia', good pizzicato and fine rhythm in Danse des Ombres and a Dance of the Furies that is certainly furious. These two Sonatas are best performed, to my ears.
The other four have many merits but the trenchant approach can seem a tad strenuous. The left-hand pizzicato in the G major is well done but the Habanera in the E major is not particularly sensitive. Sticking to German violinists, I find Antje Weithaas's playing more likeable and I still recommend Frank Peter Zimmermann over all others.
TULLY POTTER