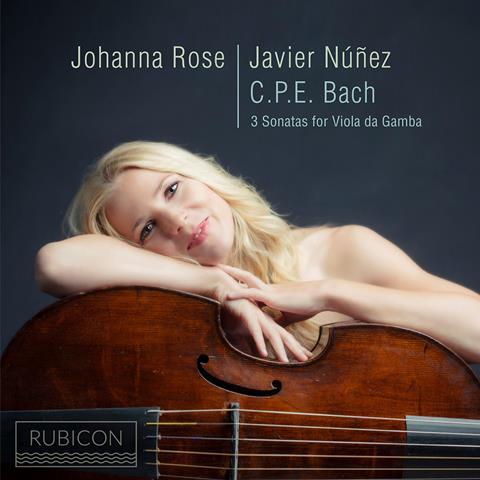 The Strad Issue: February 2018
Description: Fascinating and fantastic gamba sonatas from Bach Junior
Musicians: Johanna Rose (viola da gamba) Javier Núñez (harpsichord)
Works: C.P.E. BACH Three sonatas for viola da gamba; Keyboard Sonata in A minor
Catalogue Number: RUBICON RCD1019
The three viola da gamba sonatas by Carl Philipp Emanuel Bach are not heard nearly as frequently as those by Johann Sebastian but are, in their very different way, just as fascinating. Those in D major and C major are continuo-accompanied solos that follow the slow–fast–fast scheme favoured at the Berlin court, where C.P.E. Bach worked for the largest part of his professional life. Their idiomatic writing and virtuoso episodes are a reminder that they were written for Ludwig Christian Hesse, one of the most celebrated gambists of the day. The last movement of both, labelled Arioso, is a stylised minuet of majestic countenance.
The music's swiftly changing 'affects' are depicted by Johanna Rose with a sure sense of style and agile technique. The continuo is imaginatively realised by Javier Núñez, who comes into his own in one of Bach's numerous keyboard sonatas, giving free rein to his fantasy to exhilarating effect.
Both players are equal partners in the G minor Sonata, a three-part composition in which the gamba and the harpsichord's right hand converse over a bass provided by the left hand, with Núñez matching Rose's nuanced playing phrase for phrase. The central slow movement is a magnificent example of the 'sentimental style' for which Bach Junior was celebrated; its aching dissonances are fully relished and held almost to breaking point by both interpreters, who then break into an Allegro assai that develops a breathtaking momentum, bringing this well-recorded CD to a triumphant close.CARLOS MARÍA SOLARE