A collection of superb Beethoven performances, all in one place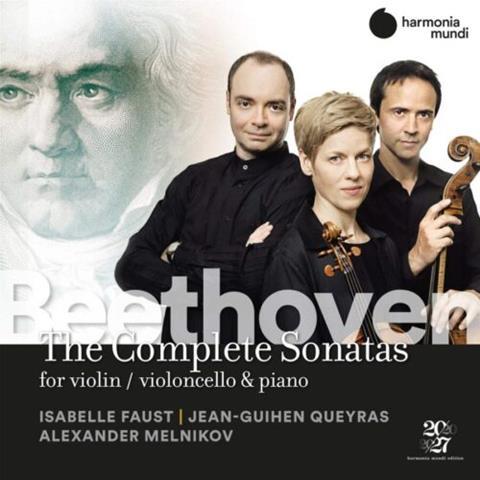 The Strad Issue: April 2021
Description: A collection of superb Beethoven performances, all in one place
Musicians: Isabelle Faust (violin) Jean-Guihen Queyras (cello) Alexander Melnikov (piano)
Works: Beethoven: Duos and Piano Trios
Catalogue number: HARMONIA MUNDI HMX2908873.78 (6 CDs)
This anniversary collection of earlier issues comprises accomplished accounts of Beethoven's last two piano trios and most of his violin/piano and cello/piano music. Delicately inflected by selected tenets of historical performance, Isabelle Faust and Alexander Melnikov's 2008 interpretations of the violin/piano sonatas adopt a conversational approach that abounds in vitality, stark contrasts and subtle shadings, particularly in the restless outer movements of op.23 and op.30 no.2. They convey the expansive lyricism of op.24's opening Allegro and colour slow movements such as those of op.12 no.3 and op.30 no.1 with an imaginative, expressive palette and discreet violin vibrato usage. Their outer movements of op.47 are as dynamic and extrovert as those of op.96 are leisurely and intimate. Some extempore ornamentation is of dubious classical taste.
Melnikov partners Jean-Guihen Queyras in unanimous, meaningful performances of the cello/piano works, captured in 2013. He plays the predominant role in the sharply characterised variations and op.5 sonatas, but Queyras demonstrates his virtuosity in the later sonatas, especially in op.69's exhilarating final Allegro vivace. Vibrato is sparingly employed largely to enhance phrasing, notably in the tragic Adagio of op.102 no.2, and the op.102 finales' intense counterpoint is intelligently unravelled and skilfully articulated.
In the trio's award-winning 2011 accounts of op.70 no.2 and op.97, Melnikov substitutes a restored Alois Graff fortepiano (c.1828) for a Steinway and his colleagues adapt their technical and interpretative approaches accordingly. Balance and transparency are transformed, particularly in the dramatic, thick-textured op.97, and fresh insights are revealed, most notably in the humorous Scherzo and solemn Andante. Recording standards are exemplary throughout.
ROBIN STOWELL