Entertaining and virtuosic cello-and-piano arrangements of Brahms dances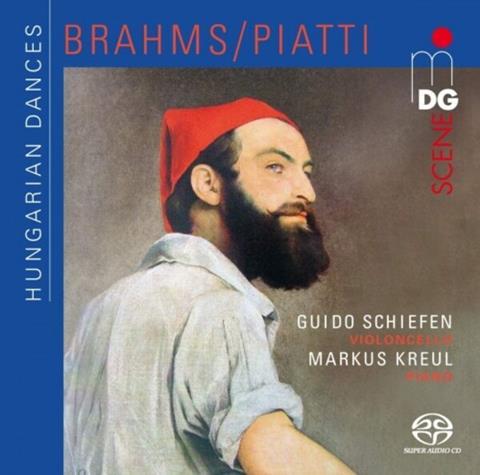 The Strad Issue: May 2021
Description: Entertaining and virtuosic cello-and-piano arrangements of Brahms dances
Musicians: Guido Schiefen (cello) Markus Kreul (piano)
Works: Brahms: Complete Hungarian Dances arranged for cello and piano (arr. Piatti)
Catalogue number: MDG 9032202-6
Alfredo Piatti was keen to put the cello on an equal virtuosic footing with the violin. So those who relish a serious technical workout in high thumb position with double-stops galore need look no further than these entertaining arrangements – a much more satisfying alternative to the usual studies. Guido Schiefen bravely delivers the relentless challenges of this music with fluency, and the performers have a sure sense of the rubato required to bring these dances to life.
However, I have a few reservations regarding the overall effectiveness of these works in this particular recording. Although Piatti certainly utilises the full range of the cello, either the high writing seems a little strained, or the bass register sounds too low and grumbling in relation to the piano. This issue is compounded by the fact that the piano writing is rather thick and needs particular care in terms of balance with the cello. Unfortunately, the resonant and closely recorded piano dominates proceedings far too much here, reducing the effectiveness of the dynamic contrasts these players can deliver. Delicate passages on the cello are particularly at risk.
Admittedly there are a few dances, such as the 1st and 14th, that work better than some others, leading me to think that the problems lie much more with this particular arrangement than with the performers.
JOANNE TALBOT