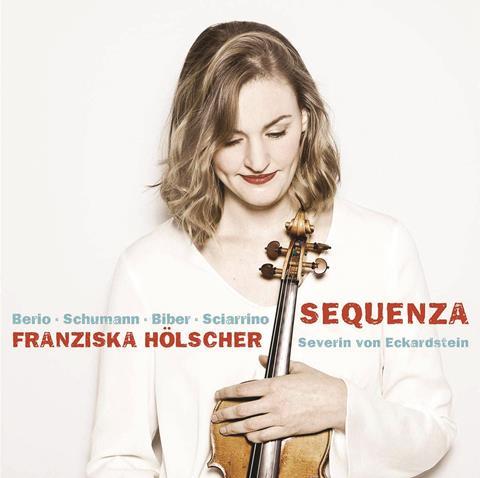 The Strad Issue: December 2019
Description: A young violinist's impressive programme and thoughtful performances
Musicians: Franziska Hölscher (violin) Severin von Eckardstein (piano)
Works: BERIO Sequenza VIII per Violino Solo BIBER Passacaglia in G minor SCHUMANN Sonata in D minor op.121 SCIARRINO Capricci per Violino Solo, nos 2 & 5
Catalogue Number: AVI-MUSIC 8553446
This recital by the young Heidelberg-born violinist Franziska Hölscher presents four solo works as preludes to Schumann's great D minor Sonata. Biber's Passacaglia is gravely played, with little vibrato but lovely tone. Salvatore Sciarrino's Capriccio no.2 (Andante), mostly very soft, starts almost in a whisper, with ghostly tremolos and fine control of dynamics. Capriccio no.5 (Presto) is again finely calibrated.
Berio's Sequenza VIII, haunted by Bach's Chaconne, is very demanding technically but Hölscher makes every note audible, even at the lowest volume, giving us an excellent range of dynamics. The sudden stabs that punctuate its progress are well done, as is the final dying away into nothingness. Her performance, slightly more expansive than Irvine Arditti's, is less drily recorded.
In the Schumann, she and the splendid Severin von Eckardstein make the most of the unsettling character of the massive opening movement and throughout convey Schumann's perturbation of spirit. Hölscher's tone is warmer here but still pure. Her Henle edition seems to have purged the staccato that the old violinists used to play in the Scherzo. A minor criticism is that one or two pizzicato notes in the theme of the variations barely register. This is indeed a thoughtful, thought-provoking programme.
TULLY POTTER