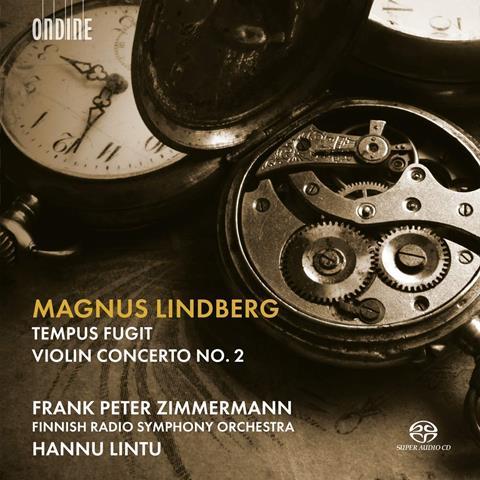 The Strad Issue: November 2018
Description: Violinist has the measure of a work specially written for him
Musicians: Frank Peter Zimmermann (violin), Finnish Radio Symphony Orchestra/Hannu Lintu
Works: LINDBERG Violin Concerto no.2; Tempus Fugit
Catalogue Number: ONDINE ODE 1308-5
With its great swells of orchestral colour, its unashamedly sumptuous diatonic harmonies and its endlessly questing forward motion, Magnus Lindberg's Second Violin Concerto is cast on a grand scale, Romantic in its vision while uncompromising in its complex web of cross-references.
Lindberg wrote it in 2015 for Frank Peter Zimmermann, and the German violinist clearly has the measure of the piece in this exceptionally fine recording. He's quite deliberate, even fastidious, in conveying the work's intricate details of rhythm and articulation, but has just the right mix of elegance and astringency that the concerto demands.
And though he might prefer immaculate precision over flamboyant theatricality, Zimmermann can be thoroughly entertaining, too: he's gloriously syrupy, for example, in the Rachmaninoff-like G-string theme that emerges near the end of the first movement, and he plays such a hilariously over-the-top role in the second.
His cadenza, too, is a masterclass in apparent musical spontaneity, as though he's mulling over past material on the spot. Under Hannu Lintu, the Finnish Radio Symphony Orchestra plays with such clarity and insight that it feels like a beautifully balanced clockwork mechanism – albeit one with a mightily exuberant spirit.
Tempus Fugit, written in 2017 to celebrate the centenary of Finnish independence, makes a brilliant, witty counterpart, and again shows off the orchestra's abilities to remarkable effect. Recorded sound is authentic and clear, though Zimmermann's violin is sometimes so embedded in the mix that detail becomes a little lost.
DAVID KETTLE