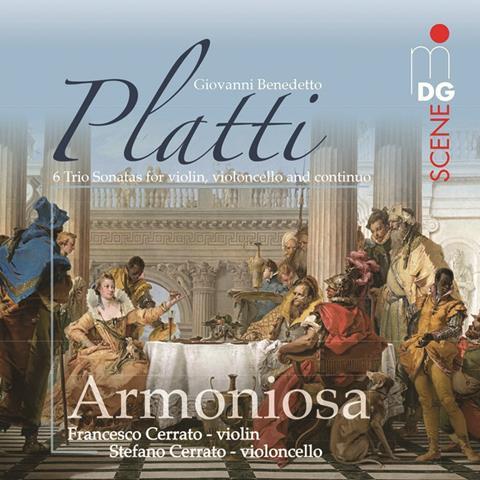 The Strad Issue: October 2017
Description: The Cerrato brothers make a convincing case for some rarely performed sonatas
Musicians: Francesco Cerrato (Baroque violin), Stefano Cerrato (Baroque cello), Armoniosa
Composer: Platti
Catalogue Number: MDG 9031978-6
Giovanni Platti's (c.1697–1763) Trio Sonatas, written for the unusual combination of violin, cello and continuo, were composed largely at the behest of Count Rudolf Franz Erwein, a keen and accomplished cellist. They incorporate expressive melody, resourceful craftsmanship and finely wrought counterpoint, but tend to lack harmonic variety and depend overmuch on sequence. The Cerrato brothers are well matched, technically assured partners and realise their 'period' interpretations with flair, musicianship and style. They converse fluently in imitation, shape phrases with unanimity and include tasteful ornamentation as appropriate. Their continuo support ranges from just a cello through various combinations to a 'full set' of cello, harpsichord and chamber organ.
Though a trifle close and occasionally bass heavy, the natural, vivid recording provides a pleasing ambience, but the organ occasionally obscures some of the solo passagework, notably in the B flat major Allegro. Most enjoyable are the three minor-key works, particularly the G minor with its contrapuntal Allegro and powerfully propelled finale; nevertheless, the final fugue of the B flat major is a contrapuntal tour de force and the A major holds some surprises at the conclusion of its opening movement and in its action-packed finale. Overall these characterful performances put as strong a case as can be made for Platti's trio sonatas without needless hyperbole.
ROBIN STOWELL