Dego and Norrington capture the grace of the teenage Mozart's music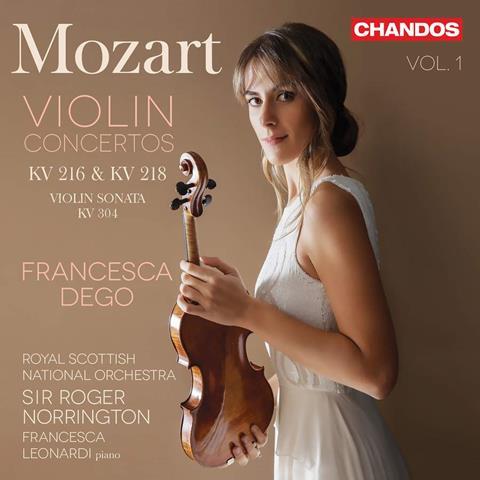 The Strad Issue: November 2021
Description: Dego and Norrington capture the grace of the teenage Mozart's music
Musicians: Francesca Dego (violin) Francesca Leonardi (piano) Royal Scottish National Orchestra/Roger Norrington
Works: Mozart: Violin Concertos vol.1: Nos.3 and 4; Violin Sonata K304
Catalogue number: CHANDOS CHAN20234
A playing time under an hour may appear parsimonious, but that's to reckon without the vital podium presence of Roger Norrington, 87 years young, and the sparks struck by his partnership with Francesca Dego. He launches Mozart's Third Violin Concerto with a jolt of electricity and continues to spring enough surprises in the accompaniment (dynamic tweaks, lightning-bolt attacks, cantabile phrases floated on air) for a whole box set of concertos.
Dego, however, gives as good as she gets, and brings a pirouetting grace to the Third's slow movement where most soloists aspire towards an ecstatic sublime: think Simone Biles rather than Julian of Norwich. Endings and cadential landings are likewise executed without clumsy signposting: the Third's finale vanishes like the Cheshire Cat, leaving just a smile on the air.
Amid all these ideas, Dego is not afraid to play simply, which serves her well in the orchestrally richer, more melodically intricate Fourth Concerto. Not since Isabelle van Keulen's teenage recording on Philips have I heard a version that so satisfyingly captures the unaffected impudence of Mozart and the music he wrote in his own late-teenage period.
My only gripe with the sonata coupling is that a fortepiano would dovetail better than a piano with Dego's grasp of 18th-century style and instrumental theatre, despite Francesca Leonardi's sensitively scaled attack and the close, although not claustrophobic Chandos engineering. Otherwise, bring on the second volume.
PETER QUANTRILL