A dazzling and delightful recital played on Paganini's own priceless 'del Gesù'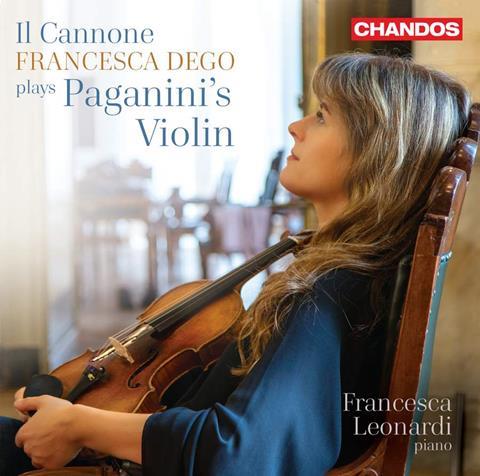 THE STRAD RECOMMENDS
The Strad Issue: April 2021
Description: A dazzling and delightful recital played on Paganini's own priceless 'del Gesù'
Musicians: Francesca Dego (violin) Francesca Leonardi (piano)
Works: Boccadoro: Come d'autunno. Corigliano: The Red Violin Caprices. Kreisler: Recitativo & Scherzo-Caprice op.6. Paganini: Cantabile in D major op.17. Paganini-Kreisler: La campanella. Rossini: Un mot à Paganini. Schnittke: A Paganini. Szymanowski: Three Paganini Caprices op.40
Catalogue number: CHANDOS CHAN 20223
That Francesca Dego was allowed, aged 30, to record this tribute to Paganini on the master's 1734 Guarneri 'del Gesù', 'Il Cannone', speaks volumes for her reputation in Italy. She and the other Francesca, Leonardi, have been a duo for 16 years. The playing is superb, often dazzling, with hardly a sign that the violinist had only a few days in which to acclimatise herself to an instrument at which, as a little girl, she gazed wonderingly as it reposed in its cabinet in Genoa.
In Kreisler's arrangement of La campanella, deftly done, Dego's tone is light and lovely. In his solo Recitativo she seems to relish the resilient sound of the violin, really making it speak. The Scherzo-Caprice is fleet and fluent, with fine spiccato. Corigliano's theme and five variations, derived from film music, are rendered both beautiful and brilliant. Carlo Boccadoro's 2019 Come d'autunno, inspired by a brief Ungaretti poem and dedicated to Dego, displays uncanny intonation in the very highest register.
Then, two agreeable forays into bel canto, Paganini's familiar Cantabile with a new accompaniment by Boccadoro and Rossini's tribute, subtitled Élégie, a miniature operatic scena from his 'Sins of Old Age'. Schnittke's kaleidoscope of Paganiniana, a sort of study in tremolo interrupted by two cadenzas, gets a splendid performance, as do the three Caprices worked over by Szymanowski – I sometimes wish he had not, but the two Francescas persuade me. The recording team has also done well.
TULLY POTTER