Carlos María Solare reports from the German music festival (19–23 June), which proved to be a hotbed of chamber music talent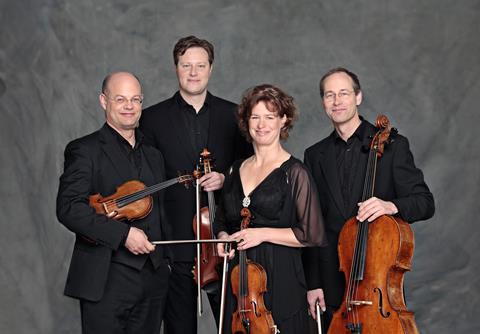 The 'Hambacher Fest' was a political demonstration that took place at Hambach Castle in 1832 in support of a free, united and democratic Germany. The siblings Sebastian, Nanette and Bernhard Schmidt, who make up three quarters of the Mandelring Quartet, grew up practically under the castle's shadow. When in 1997 they started a chamber music festival in their home town, it felt natural to call it 'Hambacher MusikFest', referencing that momentous historic event. The castle also happens to stand in one of Germany's most fertile wine-growing regions – not for nothing does the town's name bear the suffix 'an der Weinstraße'! Several festival concerts take place in nearby wineries, the host's produce being not unimportant to the programme.
Alongside the Mandelrings, the inaugural concert in Hambach Castle featured the Atos Trio, clarinettist Fabio Di Càsola and pianist Henri Sigfridsson. A muscular reading of Mozart's E flat major Quartet K428 by the festival's hosts launched proceedings; at sprightly tempos, Sebastian Schmidt's spiccato was an object lesson in right-hand virtuosity, while the foursome's repartee recalled that Goethe chestnut about quartet playing being 'a conversation between four sensible people'. The Atos Trio debuted with a fiery reading of Mendelssohn's D minor Piano Trio, with violinist Annette von Hehn and cellist Stefan Heinemeyer dovetailing their phrases beautifully. After a gossamer Scherzo, the finale's dogged main motif blossomed into a songful second subject, courtesy of the mercurial Heinemeyer, while Thomas Hoppe presided with unassuming, unshakeable aplomb at the keyboard.
The piano lid remained open throughout the week, to the music's great advantage, as Hoppe and Sigfridsson, while being enthusiastically proactive collaborators, know when to exercise restraint. The latter, who suffered from focal dystonia (happily overcome now), has made a speciality of piano literature for the left hand. On this evening he appeared in Franz Schmidt's Quintet for piano, clarinet and string trio, written in 1932 but drenched in a gloomy fin-de-siècle atmosphere and including a scurrilous finale in 5/4 time.
The festival's five days saw the musicians regrouping in the most varied constellations, not always the expected ones. Mandelring leader Sebastian Schmidt switched to the viola for two all-Schmidt string trios by Schubert and Dohnányi, evincing a finely chiselled sound in the latter piece's Romanza. Back on the violin he joined forces with Heinemeyer for a finely nuanced rendition of Boccherini's Duo in D major as arranged by Paul Bazelaire, striking a fine balance between the styles of composer and arranger. Andreas Willwohl – the Mandelring's actual violist – starred in an alert reading of Schumann's Märchenbilder that was immensely enhanced by Hoppe's thoughtful pianism. A big man, Willwohl has an exemplarily economic, no-nonsense manner of playing and draws a most attractive tone from his Stefan-Peter Greiner instrument, as he further demonstrated in the Dumka from Dvořák's 'Slavonic' Quartet op.51.
Lack of space precludes commenting on other items in a programme that included many rarities alongside repertoire staples. By the time the grand finale arrived in the form of Chausson's Concerto – blisteringly played by Hehn, Hoppe and the Mandelring, the capacity audience – mostly local but including visitors from as far away as Munich, Hamburg and Berlin – was as much intoxicated by the music as by the local Riesling at this unique festival for all the senses.