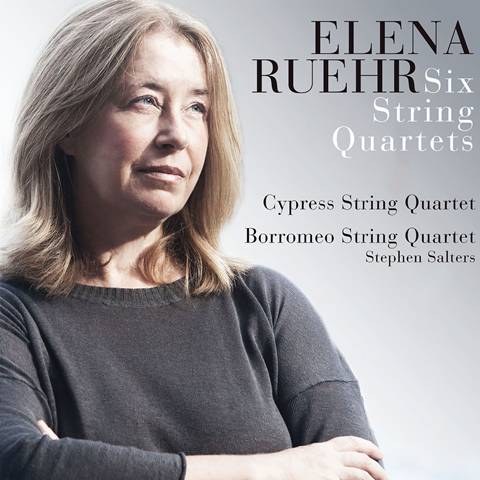 The Strad Issue: August 2018
Description: Proof that, as a genre, the string quartet still has legs
Musicians: Cypress Quartet, Borromeo Quartet, Stephen Salters (baritone)
Works: RUEHR String Quartets nos.1–6
Catalogue Number: AVIE AV2379
The Cypress Quartet made its recorded farewell two years ago by completing a Beethoven cycle (reviewed in August 2016), but it's good to find that Avie kept something in reserve. The trademark Cypress sound majored on generous projection and songful warmth, and it's a good match with the often folksy idiom of US composer Elena Ruehr.
Growing from strong tonal roots, her music always tells a story – several previous Avie albums include the beguiling Averno song cycle – and the album gets off to a strong start with the suite-like Fifth, subtitled 'Bel Canto', which finds the Cypress players in their element.
Elsewhere, the more reserved and troubled moods of the Third and Fourth quartets offer tantalising hints of how a Cypress Bartók cycle might have come across, such as the 'alla Bulgarese' feel of the Fourth's Minuet. Written back in 1991, the First carries its Minimalist baggage in more blatant fashion, but an earlier tradition of American quartet heritage is hauntingly revived with the Second, 'Song of the Silkie', a Dover Beach-style setting of an Orkney tale.
Baritone Stephen Salters's diction is clear enough (even in his part's frequent recourse to falsetto) but the omission of Laura Harrington's text from the booklet is a deficiency not wholly redressed by a helpfully detailed essay by Denise Von Glahn.
Recorded just last year, the Second Quartet brings into play the Borromeo Quartet, whose close tonal match with the Cypress on this occasion – especially the closely miked cello – is accentuated by production values masterminded by Cecily Ward, producer and erstwhile leader of the Cypress. What keeps me coming back to the album is Ruehr's confident handling of instruments and idiom. Anyone who thinks that the quartet tradition is on its last legs should listen to it.
PETER QUANTRILL