Rich sound and seamless ensemble playing from an all-star quartet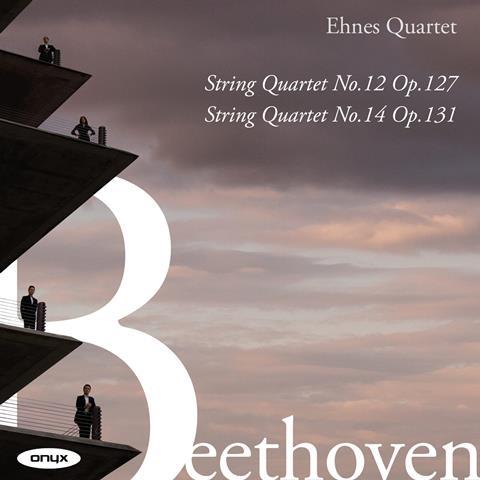 The Strad Issue: December 2021
Description: Rich sound and seamless ensemble playing from an all-star quartet
Musicians: Ehnes Quartet
Works: Beethoven: String quartets: nos.12 op.127, no.14 op.131
Catalogue number: ONYX ONYX4215
This is the second of four discs by the Ehnes Quartet, featuring Beethoven's string quartets nos.10–16 and the Grosse Fuge (opp.130 & 133 on Onyx was reviewed in August 2021). Recorded over an intensive two-week period, through the wonders of modern technology James Ehnes and his distinguished colleagues (violinist Amy Schwartz Moretti, violist Richard O'Neill and cellist Edward Aaron) were able to record the entire series in Macon, GA, US, during the recent travel lockdown, with producer Simon Kiln controlling operations back here in the UK. Amazingly, whether listened to from a musical or technological standpoint, you simply would never know.
The first thing that strikes one about these imposing readings is the extraordinary sonority generated by this all-star quartet – luminous, richly opulent, immaculately balanced and cultivated, without an ugly sound within earshot. Indeed, the quartet's tonal matching is so refined that at times it sounds as though all four players are somehow magically playing the same instrument. Musically, too, there is an extraordinary sense of oneness, which helps focus the attention purely on the music, without any sense of distraction.
It is perhaps hardly surprising that the most overtly lyrical and emotionally stable of the late quartets, op.127 in E flat major, responds so glowingly to the Ehnes Quartet's immaculately integrated sound world. Yet if anything it is the C sharp minor op.131 that benefits most strikingly from a lack of sonic and technical strain. By gently nurturing the music's cantabile–espressivo potentialities rather than its occasionally subversive semantic thrust, it feels more at one than usual with its quartet bedfellows.
JULIAN HAYLOCK