Plenty to absorb in this daringly exploratory album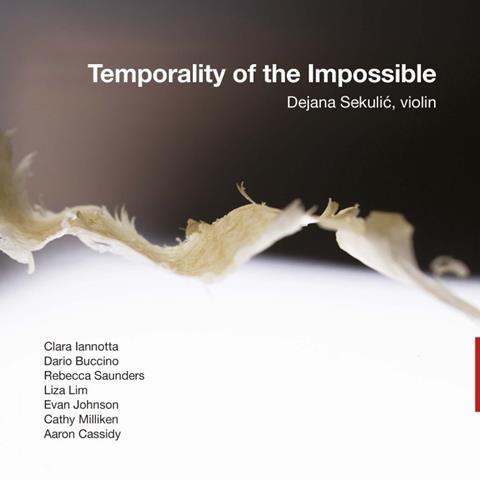 The Strad Issue: June 2022
Description: Plenty to absorb in this daringly exploratory album
Musicians: Dejana Sekulić (violin)
Works: Solo violin works by Buccino, Cassidy, Iannotta, Johnson, Lim, Milliken and Saunders
Catalogue number: NMC HCR26
The pretentious title may serve to reinforce rather than challenge prejudices in some quarters over the 'experimental' nature of the violin writing mastered with such delicacy of feeling by Dejana Sekulić. That would be a shame, when the album is full of vivid imagery in sound: the dry rattling and absorbing stillness of Clara Iannotta's dead wasps in the jam-jar, for example, or the spindly lines and ethereal cross-string connections drawn by Liza Lim in The Su Song Star Map, and the midnight breath of Rebecca Saunders's Hauch.
Such non-traditional writing resists classification. The fragile drones accompanying Sekulić's own voice in Cathy Milliken's Crie are as alien to the sul pont skittering of Evan Johnson's Wolke über Bäumen as the broken escape strategies of Dario Buccino (Finalmente il tempo è intero no.16, another zinger of a title) are to the incomplete recovery of familiar tonal and virtuosic gestures in Aaron Cassidy's The Crutch of Memory.
Dating from 2004, Cassidy's piece is the oldest here by some way, and Sekulić's success is to show that the map of violin writing is still being redrawn with unexpected curves (Saunders) as well as jagged edges (Johnson) and sudden drops (barely audible tremolo is the closest thing here to a technical cliché), beyond the circular tunes and arpeggiated noodles which have become almost a default mode of many 'new' pieces for the instrument.
Excerpted in the booklet, the scores look like works of art in themselves, and Sekulić contributes usefully demystifying notes: I keep returning to Lim's piece and agreeing with her that 'anyone who wonders how shimmering starlight travelling through vast darkness sounds' will find an answer here.
PETER QUANTRILL