Powerful advocacy of hugely demanding violin music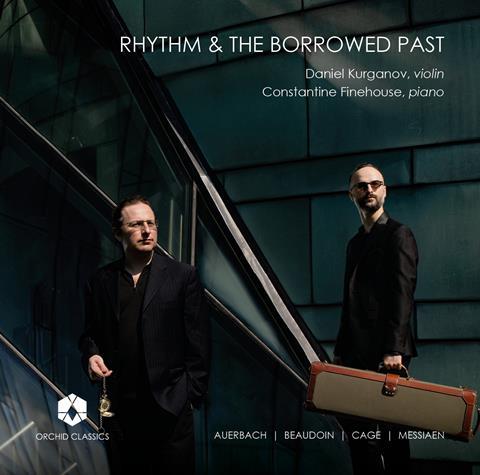 The Strad Issue: July 2022
Description: Powerful advocacy of hugely demanding violin music
Musicians: Daniel Kurganov (violin) Constantine Finehouse (piano)
Works: Auerbach: Violin Sonata no.3. Beaudoin: Höchster Not. Cage: Nocturne. Messiaen: Theme and Variations
Catalogue number: Orchid Classics ORC 100182
Don't be put off by the disc's conceptual title, derived no doubt from composer Richard Beaudoin's (slightly unconvincing) booklet notes arguing that all the music here concerns contrasting conceptions of rhythm and time. That aside, it's a thoroughly compelling showcase for Soviet-born, US-raised violinist Daniel Kurganov's considerable talents across what are actually four very different pieces, ably partnered by pianist Constantine Finehouse.
Like Kurganov, composer Lera Auerbach was born in the Soviet Union and studied in America, and with its unrestrained emotion and its unflinching evocations of darkness and despair, her Third Violin Sonata is the stand-out work here. Kurganov gives a superbly committed account that bristles with conviction, bringing a larger-than-life theatricality to Auerbach's sometimes extreme gestures, but backing it up with superbly nuanced vibrato, phrasing and tone. The extremely close recording captures every last sound as bow contacts string or left hand shifts position – it's a little distracting at times, but nonetheless adds a vivid immediacy to Kurganov's already searing performance.
His partnership with Finehouse comes more firmly to the fore in the rippling, unpredictable counterpoint of Beaudoin's In höchster Not, in which the two players intertwine in sometimes jazzy figurations. There's a wonderfully veiled quality to Kurganov's playing in Cage's delicate Nocturne, played with exceptional care but still with a strong sense of purpose. Only the concluding Messiaen Theme and Variations feels strangely less convincing, foursquare where it should be flowing, harsh and driven where it could be rhapsodic and dreamy. Nonetheless, it's a very rewarding disc that's full of emotion and big personalities, from composers and performers alike.
DAVID KETTLE