Leah Hollingsworth hears the performance at Miller Theatre, Columbia University, on 2 April 2019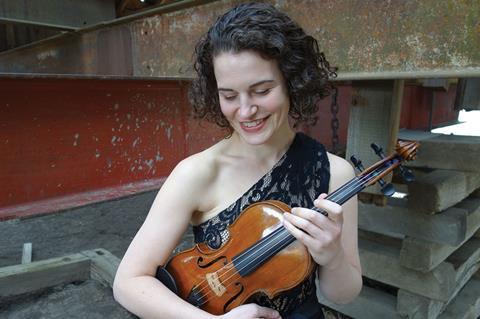 It is inspiring to watch former string quartet members strike out on their own after leaving the hallowed halls of a chamber music marriage: Becca Fischer of the Chiara Quartet did this with remarkable bravery in her performance of newly written works for solo violin at Miller Theatre. She presented seven short pieces – all composed by women.
Returning Souls by Shih-Hui Chen was a short but lovely start to the programme, followed by Jessie Montgomery's Rhapsody no.1, a delicate piece reminiscent of Ysaÿe, filled with beautiful, searching phrases of leaps and double stops and bits of melody. Although not perfectly executed, Fischer did the spirit of the work great justice. She gave a lovely introduction to Missy Mazzoli's wonderful Dissolve, O My Heart: 'her use of space and time, especially the contrast of large spaces and very small spaces, is never exactly predictable but always just right.' The entirely muted opening section was perfectly timed on Fischer's part, and while her longer phrases were quite beautiful, the contrasting dance-like sections could have been a bit wilder, with larger and less careful gestures.
Time Is a Cage (Suzanne Farrin) was introduced as 'an exercise in colour and timbre'. Fischer achieved some lovely effects with the extended techniques in this piece – fluttery trill harmonics and very effective sul tasto playing. The most melodic work on the programme, Paola Prestini's For Becca, had some nice phrases, but Fischer seemed a little hesitant, and I felt it could have been played with more confidence. Lisa Bielawa's One Atom of Faith was the most captivating work on the programme, with Fischer singing a text about a young woman struggling with her soul while accompanying herself on the violin. She gave a truly captivating performance of this very intimate musical and personal conversation.
A wonderful piece closed the evening – the 'Fireflies' movement from Gabriela Lena Frank's Suite Mestiza. Fischer (above) captured the character of the piece, although there were a few too many missed notes, imperfect harmonics and moments of questionable intonation to make the performance truly great. However her commitment to each work – along with the clarity of what she wanted to communicate and her strong personal connection to each piece – yielded a satisfying programme.
Photo: Anthony Hawley