Tim Homfray attends a recital of Brahms quintets at London's Wigmore Hall on 19 October 2021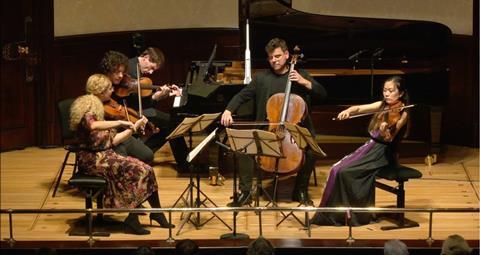 There were two Brahms quintets in this concert, the first for strings, for which the Pavel Haas Quartet was joined by viola player Pavel Nikl, and the second his Piano Quintet with pianist Boris Giltburg. Both were imbued with the quartet's trademark sheer joy, epitomised at the opening of the G major Quintet op.111, with the exhilaration and energy that cellist Peter Jarůšek brought to the vaulting opening theme.
The first movement was both pacy and spacious, the textures clear and allowing for myriad fine details. Violist Luosha Fang's melody at the gentle outset of the Adagio had luscious depth of tone, and the Un poco Allegretto third movement had a constant dynamic ebb and flow, with some silky playing at its heart. The finale, essentially lyrical, had some fine punchy syncopations and outbursts of earthy dance.
The first movement of the F minor Piano Quintet op.34 was muscular and urgent, with a quantity of nervous energy offset by gently floated melody. In the second-movement Andante, there was a sense of mystery and discovery, and the following Scherzo was clipped and fierce, driving onward but always tonally focused. The finale caught all of Brahms's many voices and wove them into a superb dramatic whole.
TIM HOMFRAY
Photo: Wigmore Hall