Andrew Mellor reviews an unusual 'visual concert' at the Oslo Opera House on 6 June 2023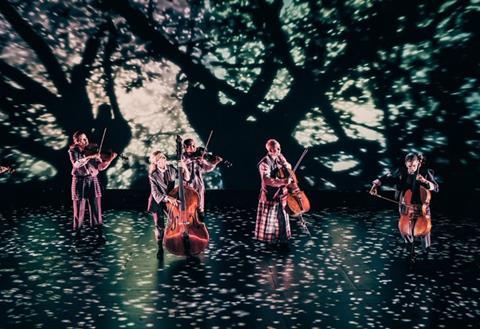 Norwegian Chamber Orchestra/Pekka Kuusisto (violin)
Oslo Opera House 6 June 2023
How best to describe the Norwegian Chamber Orchestra's performances at the Oslo Opera, DSCH? Imagine an opera chorus, acting and dancing on stage in costume, but playing stringed instruments from memory rather than singing. It was a play without words, whose opaque narrative hinted at the totalitarianism of Soviet Russia but otherwise invited us to project individual stories on to it.
Across 90 minutes of Shostakovich's music we heard the entire Chamber Symphony as scored, and excerpts from assorted chamber works and concertos mostly arranged by the NCO's own Øystein Sonstad. Accordionist Bjarke Mogensen, the only non-string player on stage, adeptly stepped in to shape-shift his versatile instrument into a piano or woodwind choir.
Some passages from director Mikkel Harder Munck-Hansen communicated with more focus than others. There was a memorable scene in a railway carriage set to a knotty fugue. During a solo in the Chamber Symphony, there was a lone cellist being interrogated by torchlight. Against the nervous energy of the Allegretto from the First Cello Concerto, NCO artistic director Pekka Kuusisto strode across the stage in a ludicrous hat whacking a bass drum.
It was unfailingly evocative, and drew laughter and shock from the audience. Just as interesting was how dramatic, choreographed physical gestures had a direct and bolstering effect on phrasing and ensemble unity, amplifying the NCO's muscular sound rather than obscuring it. Something was released – freed – in its players. Certainly, this could be the start of something.
ANDREW MELLOR
Photo: Magnus Skrede