Bruce Hodges visits Philadelphia's American Philosophical Society for Mendelssohn, Wiancko, Kurtág, Kirsten and Beethoven on 12 April 2023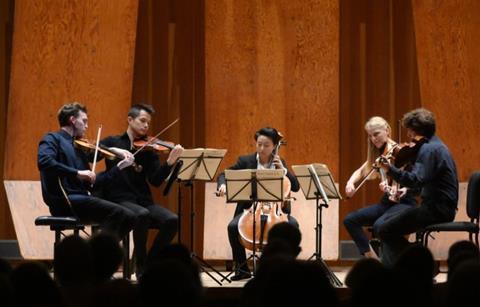 This unusual 'Music from Marlboro' evening began with two of Mendelssohn's op.81 pieces, with violinists Alexi Kenney and Lun Li, violist Hélène Clément and cellist Yi Qun Xu. All brought delicacy in its Theme and Variations, followed by the bubbly Scherzo. (Clément's viola deserves mention: an 1843 Guissani instrument, formerly owned by Benjamin Britten and Frank Bridge.)
Almost attacca came the opening pizzicatos in Benkei's Standing Death (2020) by Paul Wiancko, based on a Japanese legend. These led to scorching tuttis and gentle purrs – 'moments of triumph, tragedy, stillness, dime novel romance and violence' – done with heroic ardour.
The first half ended with selections from Kurtág's Einige Sätze aus den Sudelbüchern Georg Christoph Lichtenbergs op.37a (1996/1999), a set of highly entertaining duets for double bass and soprano performed by William Langlie-Miletich and Lucy Fitz Gibbon. Kurtág's music frequently demands theatricality. For 'In Dunkel rot werden' ('To blush in the dark'), the bassist bowed just above the tailpiece, as his partner placed fingers over the same strings near the pegs, before darting away as if touching a hot plate.
After the interval, the duo returned for Amy Beth Kirsten's yes I said yes I will Yes (2012), with text from Joyce's Ulysses. Langlie-Miletich offered a melange of pizzicatos, occasionally tapping on the wood of his instrument, while vocalising with the soprano.
To close, the opening quartet returned, adding violist Tanner Menees, for Beethoven's Quintet in C major op.29 – a welcome outing for a relative rarity. Cohesiveness combined with elegance, especially in the slow movement and, overall, a lively bonhomie.
BRUCE HODGES