Leah Hollingsworth hears the Brahms Violin Concerto at David Geffen Hall on 15 February 2020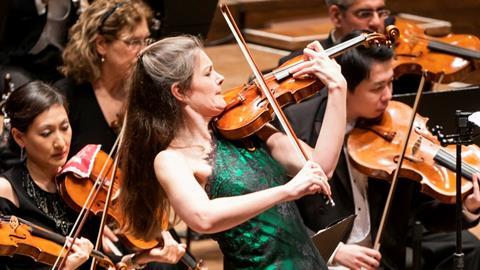 After a colourful and well-shaped tutti, Janine Jansen attacked the opening of the Brahms Violin Concerto with power and confidence. Her muscular approach pulled an intense and rich sound from her instrument, and her impressive bow control and technical mastery allowed her to spin long phrases regardless of technical difficulty. Each note seemed to grow out of the previous one and connect in a remarkable way to the next. Jansen's use of vibrato left not a note behind, and although she had a few moments of respite, they felt almost raw and were still ripe with energy. Her cadenza was utterly compelling and intense; the trills that transitioned out of it may have been the most tender playing in the movement. Her Adagio was quite passionate, beautiful and romantic. The final movement suited her style well, and Jansen performed with absolute flair and power, giving the movement a tremendous sense of controlled and building drama. Her Brahms was incredibly well received, with an enthusiastic ovation (as well as applause after each movement) and her solo Bach encore was beautifully ornamented, extremely tasteful, and exquisite in execution.
Composer Tania Leon received a rousing reception when she took to the stage to speak about her commission and world premiere Stride, which was co-commissioned by the New York Philharmonic and the Oregon Symphony as a part of the Philharmonic's Project 19, celebrating the 100th anniversary of women's voting rights in America. Stride is a work perhaps more powerful in intent than execution; disparate lines seem to go their own way in the piece and questions remain at the end.
Waltzes from Strauss's Der Rosenkavalier closed the evening, with powerful playing, soaring melodies and impressive brass solos above all else. Tender moments were interspersed with the rhapsodic waltzes, and concertmaster Frank Huang's solos were by turns playful and appropriately languid.
LEAH HOLLINGSWORTH