Bruce Hodges hears the concert at New York's National Sawdust on 2 February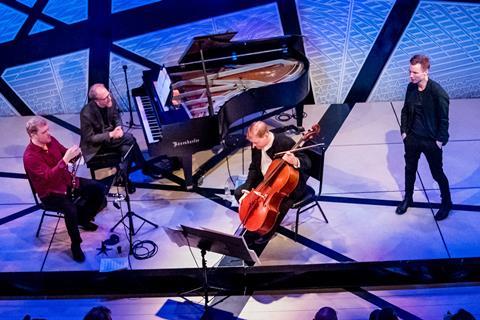 When does a cellist become a guitarist? Are there singing cellists? In an unusual evening at National Sawdust, Jakob Kullberg answered those questions with multifaceted musicianship.
In the premiere of Eivind Buene's Three Songs for clarinet, cello and piano (2020), Kullberg wore a head microphone, singing in a light, unaffected tenor. Perhaps most striking was the central 'Welt', in which Mahler's 'Ich bin der Welt abhanden gekommen' bubbled up as if the assembled trio (with Chris Grymes on clarinet, and Jeremy Gill at the piano) were attempting to reconstruct it from found fragments.
Equally unusual was Niels Rønsholt's Country Songs (2020), based on American folk sources, in which the cellist began holding the instrument horizontally, strumming it like a guitar (speaking briefly, the composer said the work was a preview of a cello concerto he's writing for Kullberg).
The centrepiece might have been Saariaho's Im Traume (1980) for Kullberg and Gill, with a ravishing array of moods and extended techniques, including ponticello and sul tasto bowings.
Per Nørgård and Bent Sørensen – composers with whom the cellist has worked closely – brought even more quietude. And Kullberg's own Song (2020), a lullaby for the trio, again showed the cellist 'a la guitarra' as Grymes aspirated through his clarinet, and Gill gently knocked on the piano surface and plucked the inner strings with his fingers.
For an encore came more Sørensen, The Wings of Spring (2010–12), an amiable, cerebral utterance. Kullberg's fingers gently swept the strings once more, again with the cello across his lap, as his pizzicatos formed a relaxed backdrop to his plaintive humming.
BRUCE HODGES