Columbia University's Miller Theatre was the venue for the 25 September 2019 concert, as Bruce Hodges found out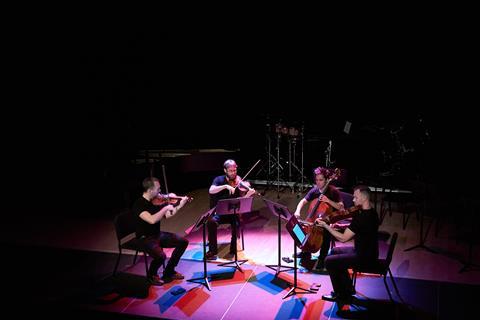 In this exuberant evening – dedicated to the work of iconoclastic composer Anthony Braxton – opening the new season at Miller Theatre, the Jack Quartet musicians were giddier than I've ever seen them. In the first half, they performed Composition no.17 (1971), rife with options. As Lara Pellegrinelli explained in admirably lucid programme notes, the four parts 'can be played by any instrument', and their three sections 'in any order for any length of time'. Additional choices were made by the players, led by the first violinist (Austin Wulliman). In the memorable final bars, a sustained scratch was capped by a brief, offhand gesture in the cello (Jay Campbell).
The real fun, however, occurred after the interval, when six of Braxton's 'compositions' – nos.17 (again), 18, 40(O), 101, 168 and 358 (written between 1971 and 2006) – were done simultaneously, with the Jack crew joining twelve musicians from Either/Or. The fascinating fray incorporated no.18 (1971) for string quartet, whose freewheeling requirements focus on 'sliding sound techniques', adding to a 40-minute, over-the-top experiment in dense, raucous urbanity. During the avalanche, violinist Christopher Otto occasionally shouted instructions to violist John Pickford Richards, each in turn giving hand signals across the stage to Either/Or (wind, brass, percussion and double bass). String quartet communication has rarely been vaulted to such a mad zenith.