Leah Hollingsworth hears the foursome perform at Carnegie Hall on 4 March 2019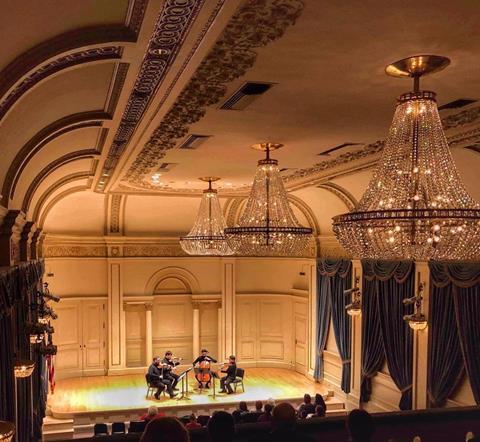 It is a pleasure to hear a quartet that both takes music seriously and also enjoys it – as was the case with the Heimat Quartet, which made its Carnegie Hall debut this month. Founded in 2014 in Boston, the Heimat performed Mozart's String Quartet in G major K287 with a warm sound and much joy. Unfortunately, intonation was frequently a distraction. Cellist Brendon Phelps stood out in the Andante cantabile, playing with a rich but clear sound and beautiful shaping and leading.
The world premiere of Anthony Vine's Wave Room followed, and the quartet did an admirable job, presenting it with sincerity and gravitas, representing well the work's intention (as noted in the programme): 'The music attempts to engage a reflexive mode of listening, wherein one takes notice of their own perceptual faculties, and begins to perceive themselves listening.' Although it was not exactly enjoyable, the work was an interesting and provocative part of the programme.
Dvořák's infrequently heard A flat major Quartet op.105 closed the programme with a beautiful introduction by cellist and violist. As the movement developed, first violinist Patrick Shaughnessy experienced intonation issues, but created soaring melodies and long lines above inner-voice unrest. The Molto vivace was extremely well executed. Although the final movement was a bit dense, the quartet brought the concert to a close with a vivacious ending.
LEAH HOLLINGSWORTH