Tim Homfray attends London's Wigmore Hall for the recital on 29 December 2021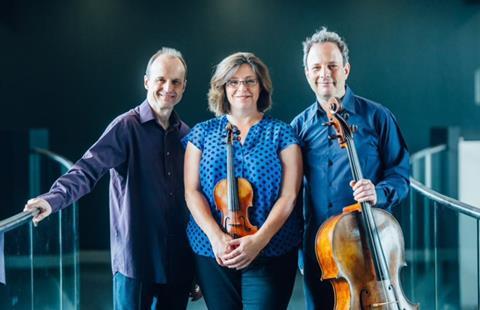 This concert was an emotional journey that ended in the grieving depths of Shostakovich but began with happy Mozart. The first movement of his E major Trio K542 was both forthright and delicate, and after the somewhat melancholy central Andante, with vivid dynamic contrasts, the Allegro third movement sparkled, with lively passagework from violinist Lucy Gould and pianist Benjamin Frith. The opening of Mendelssohn's C minor Trio op.66 was dramatic, surging and restless, with the second theme expansive and later grand as they drove energetically to the close of the movement. The constant melody of the Andante ebbed and flowed genially; in the light and scurrying Scherzo some dark shadows fell. Cellist Richard Lester launched vigorously into the Allegro appassionato finale, which developed steadily to majestic valediction.
The bleakness of the Andante opening of Shostakovich's E minor Second Piano Trio op.67 was emphasised by white, vibratoless notes from Gould, who later played with strength and bite and some fine swoops. The second-movement Allegro non troppo was mechanical and sinister, with bulging hairpins to round it off, and the Largo that followed was plaintive and spellbinding. The harrowing progress of the final Allegretto was played with relentless rhythmic precision.
TIM HOMFRAY