Leah Hollingsworth attends a live-streamed performance presented by Cal Performances on 10 December 2020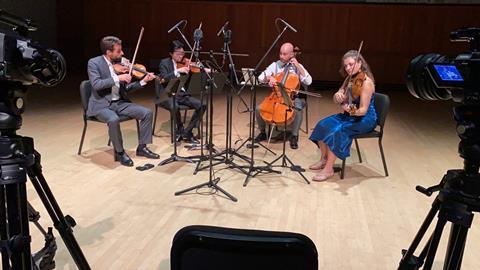 Haydn's 'Fifths' Quartet op.76 no.2 seems an appropriate choice for these times – sometimes serious, sometimes sunny, but always with an undertone of sobriety. The Dover Quartet performed exquisitely in a series presented by Cal Performances – every note pristine and clear, with an immaculate balance. The harmonies were rich but not dense, never overpowering the first violin, which sometimes floated above, and other times dovetailed among the other instruments. The variations in the Adagio were imaginative and coherent, and the transitions lovely. The punchy, characterful fourth movement brought the work to an energetic close.
Ligeti's 'Métamorphoses nocturnes' Quartet no.1 is aptly named, and the Dover players evinced a masterful understanding of the music. Although the work features writing that can easily sound harsh or burdened at times, the Dover's clean playing brought out the melodic lines, and the work yielded a sense of tremendous momentum and direction. The muted section was the most deeply felt portion of the piece, and quite poignant and powerful. The number of techniques needed to play this quartet at all – let alone superbly – are extreme, and yet the Dover's performance seemed shockingly effortless.
Although Dvořák's G major String Quartet op.106 is not his sunniest work, the Dover's interpretation was a little serious for my taste. I loved the intensity of the opening, but wished for more warmth. However, the quartet captured well the exuberance of Dvořák's characteristic melodies, and the Adagio was played with a profound depth of emotion and gorgeous cello melodies. The sunny Molto vivace gave way to a dramatic ending and the final movement was played with vigour, intensity and imagination. The second theme was quite stunning, and perhaps my favourite musical moment of the concert – although with a performance of such impeccable precision, instrumental mastery and flawless ensemble, it proves difficult to choose just one.
LEAH HOLLINGSWORTH