Carlos Maria Solare ventures out to the Orangerie at Potsdam's Sanssouci Palace on 21 June 2023 for a performance of Hildegard von Bingen, Konstantia Gourzi, Bach and Matteis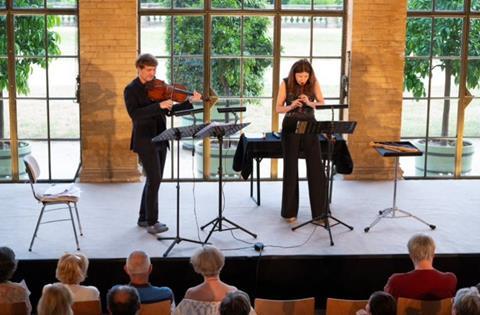 The ears of the audience at the Orangerie of Sanssouci Palace were first tickled by bourdon notes from Nils Mönkemeyer's viola, invisibly arriving from the back of the auditorium. Meanwhile, Dorothee Oberlinger walked in from the elongated hall's opposite end, bringing forth some strangely percussive sounds from her recorder. As both musicians reached the stage, their improvisatory gestures gradually grew into Hildegard von Bingen's hymn, O Ecclesia.
These beautifully vocalised medieval strains segued seamlessly into Konstantia Gourzi's messages between trees II, an evocative piece written only last year for the present performers. Here the bourdon was taken over by a pre-recorded tape, while recorder and viola shared music inspired by the sounds of nature. The sound effects Oberlinger extracted from her array of recorders contrasted impressively with Mönkemeyer's trademark sweetness of tone. Later in the programme, the pair introduced another Gourzi commission: dance for two makes most effective use of Greek folk music's irregular rhythms while welding together the sounds of viola and recorder through cunning harmonics.
In the imitative phrases of Bach's Inventions and Canons, Oberlinger and Mönkemeyer seemed to dare each other to ever more intricate embellishments, but they were most moving in the static Adagio e piano from the Trio Sonata BWV1039, its missing third voice uncannily suggested by the consonance of the other two. On his own, Mönkemeyer contributed the Prelude from the G major Cello Suite, indulging in abundant rubato that arguably threatened the piece's momentum. Conversely, his free imagination seemed ideally attuned to Nicola Matteis's Phantasy. Some folk dances, running the gamut from Irish reels to Bartók's Romany-inspired duets, brought the recital to an exhilarating end.
CARLOS MARÍA SOLARE