Carlos María Solare hears the concert at Berlin's Konzerthaus on 17 October 2019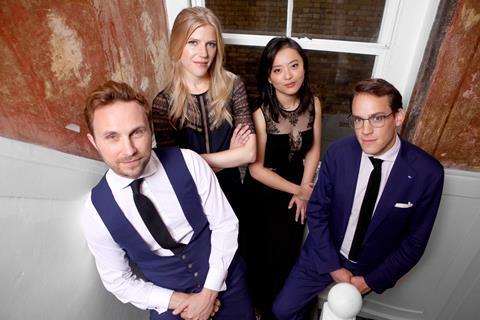 Brett Dean's latest string quartet – his third – was written for the Doric Quartet, which premiered it during its Australian tour last June. Following the European premiere at the Edinburgh Festival, the concert under review marked its first performance in Germany. One doesn't need to know the piece's 'Hidden Agendas' – hence its title – in order to enjoy it as a virtuoso vehicle. The Doric (left) ran the expressive gamut from the aggressiveness of the opening ('Hubris') through sad resignation in the muted third movement ('Retreat') to the finale's somewhat artificial optimism ('On-message'). For all their virtuosity in the piece's extrovert passages, the players were most moving in the fragile, vulnerable tones they found for its more intimate parts, such as when, in the section titled 'Self-censorship', they are required to use bows without rosin.
In the Doric's hands, Haydn – op.33 no.1 in B minor – was no warm-up affair. Using period bows, the players underlined the composer's wit in withholding the piece's key at the beginning of the first movement, which, with both repeats observed, achieved an unusual monumentality. Chromatic steps were often played with one finger, resulting in unsettling slides that took some getting used to but were dramatically effective – and 'historically correct', too! The Andante was finely voiced, and they pulled out all stops for the fiery Finale. As with Haydn, the Doric's judicious dosage of vibrato brought great transparency to Schubert's G major Quartet. Their wide dynamic spectrum opened up some almost Brucknerian vistas in the first movement, while maximising the contrast between the music's wistful atmosphere and the many disruptive moments, nowhere more so than in the final movement's breathless ride.
Carlos María Solare