Dennis Rooney attends the performance at New York's Alice Tully Hall on 1 February 2022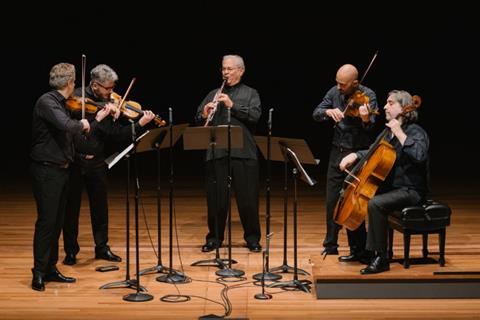 Founded in 2000, the Cremona Quartet displayed outstanding tonal refinement in its local debut, sponsored by the Chamber Music Society of Lincoln Center. The programme presented two quartets composed in 1930 and 1904–5 respectively, interspersed by Weber's Clarinet Quintet with David Shifrin.
The first of Prokofiev's two string quartets dates from close to the end of his decade-long Paris residence, and was commissioned by Elizabeth Sprague Coolidge, doyenne of American patrons of new chamber works in the mid-20th century. The first performance was by the Brosa Quartet in the Coolidge Auditorium in Washington DC's Library of Congress in 1931. Each of the quartet's three movements is replete with lyricism, alternating with scherzando elements and an exceptionally contemplative, expressive finale.
The Cremona's performance was distinguished by splendid balance, abundant colour and a relaxed mastery of all the musical elements. In Weber's quintet (completed in 1815) the dedicatee Heinrich Baermann was very much the star turn; but Shifrin's clarinet was supported with sympathy, even when the string textures became merely accompanimental.
Schoenberg's First Quartet op.7 was always beautifully played, with understanding and sympathy. No matter how dense the texture, no hint of effort entered into the performance. Nearly a quarter-century of existence ensured a constant focus on expression and the ceaseless evolution of the musical materials. Shifrin rejoined the quartet for the Adagio from Mozart's Clarinet Quintet K581, where equal partnership prevailed.
DENNIS ROONEY