Andrew Mellor reports on a performance from the 'Series of Four' concerts, taking place at Copenhagen's Royal Danish Academy of Music on 19 March 2023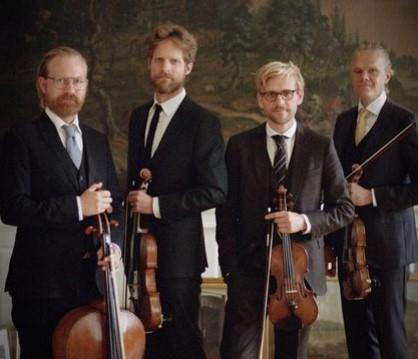 There's usually something unexpected at the Danish Quartet's 'Series of Four' concerts, its spring festival exploring the art of chamber music. Most programmes aren't revealed until the day. Here we heard Missy Mazzoli's Enthusiasm Strategies and Mendelssohn's A minor Quartet played not by the Danish but by their mentees, the Absalon Quartet, in promising performances. Sixteen students from the Royal Danish Academy of Music joined the Danish for a grand finale: a disciplined, sonorous and folksy performance of Tchaikovsky's Serenade for Strings, on its feet literally and metaphorically.
The main event saw the Danish alone: the world premiere of Anna Thorvaldsdottir's new (second) string quartet Rituals. Across nine imperceptibly divided movements, this 25-minute tapestry explores a series of obsessive, ritualistic states of mind in which the four players become deeply involved in mirroring, echoing, repeating gestures.
The composer's fingerprints are all over it – cracks, snaps and their aftershocks ripple through ever-unstable textures, while a unifying theme bobs up in the guise of a chorale. Even away from her preferred orchestral medium, this composer has an ability to draw an audience deep into her processes, which comes surely from the severity of gesture she asks for (particularly on glissandos and pizzicatos) and her astonishing control of form. The Danish sounded as meticulous, atmospheric and involved as ever.
ANDREW MELLOR