Bruce Hodges hears the performance at Philadelphia's Benjamin Franklin Hall on 30 October 2020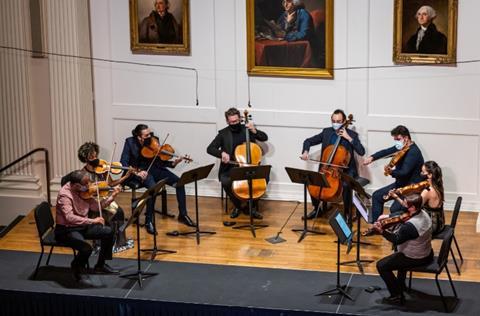 Combining magnificently into a single forceful octet, the Catalyst and Harlem quartets reached a climax at this concert's conclusion with Mendelssohn's classic in the genre. Presented by the Philadelphia Chamber Music Society, the group boasted elegance, reverence and rich timbres in the opening movements. In the ticklish Scherzo I wondered, 'How can anyone not like this music?' And the final Presto roared like a vintage convertible, cruising down the highway.
In the spare formality of Philadelphia's Benjamin Franklin Hall (for a Covid-limited audience, with the performers wearing masks), the ensemble's luminosity was evident from the opening work, Jessie Montgomery's Strum (2006, rev.2012). Amid luscious chords, strumming eventually takes centre stage, and the warm vibe continues in an exuberant race to the finish line.
To preface the still, small voice – a world premiere by composer Kenji Bunch – author Lorene Cary gave a carefully paced reading of the late Walt Whitman poem that inspired the composer, 'Election Day, November 1884'. The score's opening finger snaps set a metronomic rhythm for a restless, scurrying figure, which expands into a voluptuous bloom. Later the snaps return, with subdued, wordless vocalising from the ensemble.
Shostakovich wrote his rarely played Two Pieces for String Octet when he was a teenager, studying at the Petrograd Conservatory in St Petersburg. The eight players rejoiced in its youthful hijinks, from the sombre clouds and skeletal textures of the Prelude to the shrieking precocity of the Scherzo.
BRUCE HODGES