Andrew Mellor hears the performance at Copenhagen's DR Concert Hall on 27 November 2020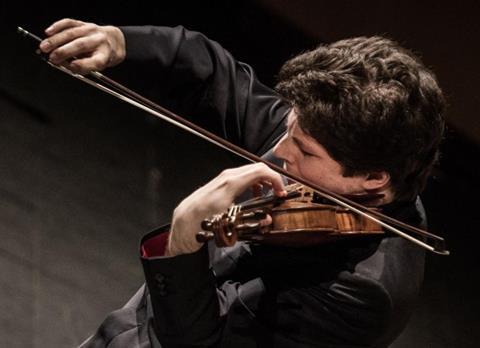 It takes a lot more fortitude to pull off the Sibelius Violin Concerto in concert than on record. I admired Augustin Hadelich's 2014 recording for its detail, cleanliness of tone and cool emotional insight. His performance in Copenhagen with the Danish National Symphony Orchestra was similarly prepared – scrupulous in its following of the composer's tempo markings – but lacked the power and lyricism needed at climactic moments.
Unperturbed by a consistent whining noise that invaded the DR Concert Hall, Hadelich found an intriguing way to convey a sense of building stamina in the slow movement, using articulation rather than heft and volume. For once, the piece was taken at a true Adagio di molto by conductor Manfred Honeck. That sort of narrative articulation was a little less forthcoming in the finale, on which Hadelich couldn't quite stamp his authority.
I admit to being hard to please in the Sibelius, but Hadelich proved his individuality in a stylish encore which he has all but taken ownership of: Coleridge-Taylor Perkinson's Louisiana Blues Strut. It's a blues stuck in a groove, constantly slipping back to three pivotal chords that grind upwards. It's neither easy to play nor stylise, especially in its special final chord, but Hadelich won on both counts. Despite the vernacular aesthetic, he showed us some of the tonal beauty of his 1744 'Leduc' Guarneri 'del Gesù' that we hadn't glimpsed in the Sibelius.
ANDREW MELLOR